Close
UHV assistant professor has longstanding penchant for past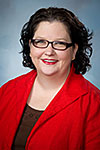 Beverly Tomek
The past isn't always pretty, but for some, it's a calling. Such is the case for Beverly Tomek, an assistant professor of history in the University of Houston-Victoria School of Arts & Sciences.
Tomek, a historian specializing in abolition and 19th century U.S. reform, recently completed a book about a Philadelphia mobbing.
"Abolitionists built this grand hall in 1838 – Pennsylvania Hall," she said, noting racial tensions ran deep at the time. "On the fourth day, the mob burned it to the ground."
Tomek's penchant for the past started early on but always rivaled her desire to educate others. The latter was in her blood.
"I come from a family of teachers and have known since kindergarten that that's what I wanted to do," she said. "I actually went to college to be an elementary teacher but couldn't get past the history. I got my bachelor's degree in humanities but no teaching certificate."
Fortunately, no teaching certificate is needed to teach at the university level, and she had an encouraging mentor.
In 2000, longtime UHV professor and friend Hal Smith urged Tomek to join the university as an adjunct professor. She later became a visiting professor.
"It felt like I'd returned to my roots," she said. "The teaching part just came naturally."
Following a four-year stint at a community college, Tomek returned to UHV not only to teach, but also to help develop a history program for the university's newest addition: freshmen and sophomores.
The mother of three enjoyed her new position.
"Some students almost need a mom as much as they need a professor when they're just starting out, and I'm happy to take on that role," she said. "The counselors tease me because I call my students my babies, but they keep me going."
Tomek earned her bachelor's degree in humanities, with a focus on history, from UHV. She followed with a master's degree in U.S. history from what was then called Southwest Texas State University. She earned a doctorate in U.S. history, with a focus on the 19th century U.S., from UH.
The educator doesn't limit her teaching to traditional methods. Last school year, she partnered with Justin Bell, a UHV assistant philosophy professor, to create a learning community for students. The students performed volunteer work in the area.
"We thought it would be good for students to get out there and learn about the community," she said, noting some students put in more than the required number of volunteer hours. "We wanted this to be something they could really get involved in."
While Tomek stays busy on campus, it isn't the only place she focuses her efforts.
She remains active with the Pennsylvania Historical Association – a group that jokes that she's too far away in Texas – and has been tasked with writing a book about slavery and abolition in Pennsylvania.
She said she also enjoys listening to music – punk is a favorite genre – and doing cross-stitch. Home improvement projects are another big pastime.
"I analyze everything in my mind – how difficult the project will be, the odds of me injuring myself, things like that – and then get to it," she said as she laughed, noting recent projects include a dining room redesign, new flooring and even a replaced ceiling fan. "These aren't projects I come up with and then have someone else do. I like doing them on my own."
Tomek admitted the past year was an eventful one. Not only did Smith move away, but Mike Hummel, her mentor from Victoria College, retired. Another mentor, Charles Spurlin, recently passed away. And while those losses mean change, they also offer a chance for her to work toward continuing their legacy.
"I feel like I'm trying to carry on what they spent their lives building," she said. "It makes this a life crusade, I guess. It's not just a job."
The Faculty Feature is an online feature highlighting faculty members from each of the University of Houston-Victoria's four schools. To nominate a faculty member, email Paula Cobler, UHV director of marketing and communications, or call her at 361-570-4350.
The University of Houston-Victoria, located in the heart of the Coastal Bend region since 1973 in Victoria, Texas, offers courses leading to more than 80 academic programs in the schools of Arts & Sciences; Business Administration; and Education, Health Professions & Human Development. UHV provides face-to-face classes at its Victoria campus, as well as an instructional site in Katy, Texas, and online classes that students can take from anywhere. UHV supports the American Association of State Colleges and Universities Opportunities for All initiative to increase awareness about state colleges and universities and the important role they have in providing a high-quality and accessible education to an increasingly diverse student population, as well as contributing to regional and state economic development.