Close
New UHV student life director seeks more student involvement
Dakota Doman has noticed the word "opportunity" frequently coming up in conversations since he started Sept. 23 as University of Houston-Victoria student life director.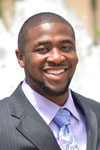 Dakota Doman
Doman left his job as director of student activities and civic engagement at Lamar University in Beaumont because he was excited about the opportunity of expanding and molding UHV's student life offerings.
"I think it's great that the faculty and staff at UHV talk a lot about the opportunity to grow UHV as a destination university," he said. "Opportunities mean new things. Some universities are set in established ways, so there's not a lot of wiggle room to try new activities or programs. One of the draws about UHV is the chance to expand what we offer our students."
As student life director, Doman is tasked with developing, administering and evaluating policies, programs, procedures and initiatives that support student life and promote student engagement. The Houston native oversees student orientation, student activities, intramural sports, parent programming, student organizations and student discipline.
Although cases of discipline are rare, Doman said that's one aspect of the position that is new to him.
"I have worked to plan activities and community service projects, and I even coached a club basketball team," he said. "I haven't been a judicial officer, so that was something that interested me."
Doman earned a Bachelor of Applied Arts and Sciences in 2008 from Lamar University. He went on to obtain a Master of Business Administration in 2011 from Lamar. He now is a doctoral student in higher education administration at Texas Tech University.
"A lot of the principles I learned while obtaining an MBA are applicable to this job," he said. "I have to be a leader, know about marketing and how to balance a budget. Those are all things I learned in business school. Normally, people in this field will earn a Master of Education, but the MBA prepared me for this role."
Doman worked in the student affairs office at Lamar as an undergraduate student. In 2009, he returned to Lamar to take a job as assistant director of student activities. He was promoted in June 2012 to director. He developed and led community service programs and projects, and he oversaw more than 500 activities throughout the 2012-2013 academic year.
Although Lamar is an older, more-established university, Doman implemented some new programs, such as adding a Department of Civic Engagement.
"There are a lot of initiatives at UHV we plan to start to serve the student population," he said. "At Lamar, I had to see what worked best for the students. If we didn't have it, I had to build it. The same will be true at UHV."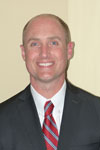 Jay Lambert
One idea Doman wants to implement is having UHV included in the President's Higher Education Community Service Honor Roll. Each year, the U.S. president recognizes higher education institutions that reflect the values of exemplary community service and achieve meaningful outcomes in their communities through service.
Doman said Victoria is blessed with many strong community organizations. UHV can explore partnerships with those groups to give students a chance to get more involved in helping Victoria."
Doman replaced Lindsey Koch, who had held the student life director job since 2010. His hiring reunited Doman with Jay Lambert, UHV's associate vice president for student affairs. Lambert previously was an assistant vice president at Lamar.
"Dr. Lambert is a great leader and has a great vision for student affairs," Doman said. "He helped me as a student and as a colleague when I came back to work at Lamar. Even before I knew there would be a job opening here, I heard many great things about UHV from him."
Lambert said he is excited to have Doman on board.
"I am looking for him to be a key player in the success of our students," Lambert said. "Under his leadership, I am confident that we will see more structured activities and a more involved student body."
The University of Houston-Victoria, located in the heart of the Coastal Bend region since 1973 in Victoria, Texas, offers courses leading to more than 80 academic programs in the schools of Arts & Sciences; Business Administration; and Education, Health Professions & Human Development. UHV provides face-to-face classes at its Victoria campus, as well as an instructional site in Katy, Texas, and online classes that students can take from anywhere. UHV supports the American Association of State Colleges and Universities Opportunities for All initiative to increase awareness about state colleges and universities and the important role they have in providing a high-quality and accessible education to an increasingly diverse student population, as well as contributing to regional and state economic development.