Close
UHV/ABR author explores darker side of stories
Author Brian Evenson learned early in his career the importance of being committed to what he was writing after going through a controversy while teaching at Brigham Young University.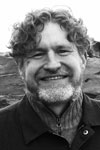 Brian Evenson
A student complained about the violence depicted in his first novel, "Altmann's Tongue," which led to an investigation at the conservative university in Provo, Utah. It resulted in him leaving the university and the Church of Jesus Christ of Latter-day Saints.
Evenson will be the next author featured in the Fall 2013 University of Houston-Victoria/American Book Review Reading Series. He will give a reading at noon Oct. 17 in the Alcorn Auditorium of UHV University West, 3007 N. Ben Wilson St. The public is invited to attend the free event, and light refreshments will be served.
"It was a painful experience to go through but was useful in my writing because I had to believe in what I was doing so that I could defend it," he said about the controversy. "Writing is a serious activity, and it gave me a stronger relationship with my work. It made me realize that my worked mattered and that I would be accountable to others for what I wrote."
While at UHV, he will read from his most recent short-story collection, "Windeye," and his novel, "Immobility." The novel is about a man who wakes up and discovers the world around him has been destroyed and transformed. The post-apocalyptic novel touches on themes of communities and allegiances.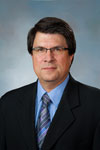 Jeffrey Di Leo
"Evenson takes a philosophical approach to his stories that draw readers in," said Jeffrey Di Leo, ABR editor and publisher, and dean of the UHV School of Arts & Sciences. "He has a lot of experience and a unique perspective on writing that will be beneficial for those attending his reading."
Evenson, a professor at Brown University in Providence, R.I., has authored more than 20 books of short stories, novels, nonfiction and translated volumes. His work often focuses on dark themes such as brutality and violence, using fiction to critique contemporary values.
Evenson said the dark themes stem from being raised around the Mormon culture, which tends to approach subjects by looking at positive attributes.
"It's fine to look on the bright side, but it meant that I grew up where I wasn't allowed to talk about certain things," he said. "As a young writer, I decided to approach themes from the other side, such as the tension between two subjects, desensitization of violence in our culture and hypocrisy."
Evenson said he's lucky because he always has more story ideas than time to write them all. His stories include an ethical dimension, which develops naturally as he's writing a story and makes the reader think about the validity of certain topics addressed. While his subject matter is often dark and graphic, it is never gratuitous, he said.
"I never write violence just to have violence in my story," Evenson said. "There is always a reason behind what I write. If I find I'm straying from that, I'll stop or back away from the story. If there's a purpose for a certain subject matter, I'm all for doing anything."
Evenson has won numerous awards including the O. Henry Award and the American Library Association/Reference and User Services Association Prize for Best Horror Novel.
Other writers scheduled for the Fall 2013 UHV/ABR Reading Series are:
Christopher Howell, Nov. 7 – Howell has authored 10 volumes of poetry, a collection of essays and is the editor of an anthology. Originally a military journalist during the Vietnam War, he later started Lynx House Press and is now a professor of creative writing at Eastern Washington University in Cheney. He has won numerous awards including the Washington State Governor's Award, the Washington State Book Award and three Pushcart Prizes.
Paul Ruffin, Nov. 21 – Best known as a short story author, Ruffin also writes novels and poetry that often focus on the South's people, landscape and attitudes. He is the author of "Circling," which won the Mississippi Institute of Arts and Letters Award, and is a member of the Texas Institute of Letters. He is a Regents Distinguished Professor at Sam Houston State University in Huntsville, where he directs the Texas Review Press.
ABR is a nonprofit, internationally distributed literary journal that is published six times a year. It began in 1977, moved to UHV in 2007 and has a circulation of about 8,000. The journal specializes in reviews of works published by small presses.
For more information about the UHV/ABR Reading Series, call the ABR office at 361-570-4101 or go to www.americanbookreview.org.
The University of Houston-Victoria, located in the heart of the Coastal Bend region since 1973 in Victoria, Texas, offers courses leading to more than 80 academic programs in the schools of Arts & Sciences; Business Administration; and Education, Health Professions & Human Development. UHV provides face-to-face classes at its Victoria campus, as well as an instructional site in Katy, Texas, and online classes that students can take from anywhere. UHV supports the American Association of State Colleges and Universities Opportunities for All initiative to increase awareness about state colleges and universities and the important role they have in providing a high-quality and accessible education to an increasingly diverse student population, as well as contributing to regional and state economic development.