Close
UHV alumna uses history degree to honor veterans
When Stacey New decided she wanted a career working in a museum, she turned to the University of Houston-Victoria for a bachelor's degree in history.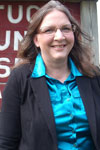 Stacey New
A year after graduating from UHV, New is organizing her first history event at 10 a.m. Nov. 2 at the Refugio County Museum, 102 W. West St. in Refugio. The event includes a rededication ceremony for a Civil War monument, Patriot Guard Riders and the Corpus Christi Veterans Band. The museum also will be opening its new veterans' display in honor of veterans from Refugio County.
"Veterans hold a special place in my heart because they were brave enough to serve our country," New said. "They deserve so much gratitude from citizens, and this event is a little way I can give back to them."
New, a volunteer at the small museum, came up with the idea and organized the museum's event. Beverly Tomek, an assistant professor in the UHV School of Arts & Sciences, said New is an example of how a history degree can lead to community service opportunities outside of the classroom.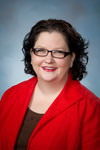 Beverly Tomek
Tomek said not all history students want to be teachers once they graduate. Public history is a growing field where historians use their basic knowledge of history to work at a museum. In that position, history graduates reach out to the public to get involved in history, preserve collections and record oral history to be used by future historians. Tomek and New both agree there is a future need for public history at UHV.
"I do a lot of research at the museum, and my UHV degree has been invaluable for that," New said. "I know how to research and relay information and stories to museum visitors, but I've had to learn on the job how to do museum tasks like cataloging and preserving artifacts."
New said she likes finding out things she didn't know about history.
"There are so many different aspects of history taught in school, but I like doing historical research and being able to find the whole story," she said. "Then I get to share the whole story at the museum. I enjoy when museum visitors have that 'oh, wow' moment when they learn something new."
New has spent the past year at the museum cataloging artifacts, doing inventory, planning the veterans' event and brainstorming new displays about Refugio County history. She plans to use her volunteer experience toward a future job at a larger museum. In the meantime, she's happy helping at the Refugio County Museum.
"Stacey was one of my best students because she was able to lead other students in our class into deeper discussions about history topics," Tomek said. "I am excited to support a former student who is giving back by volunteering in public history. I can see how her energy has already brought fresh ideas to the museum."
The University of Houston-Victoria, located in the heart of the Coastal Bend region since 1973 in Victoria, Texas, offers courses leading to more than 80 academic programs in the schools of Arts & Sciences; Business Administration; and Education, Health Professions & Human Development. UHV provides face-to-face classes at its Victoria campus, as well as an instructional site in Katy, Texas, and online classes that students can take from anywhere. UHV supports the American Association of State Colleges and Universities Opportunities for All initiative to increase awareness about state colleges and universities and the important role they have in providing a high-quality and accessible education to an increasingly diverse student population, as well as contributing to regional and state economic development.