Close
UHV business school recognizes faculty for exceptional contributions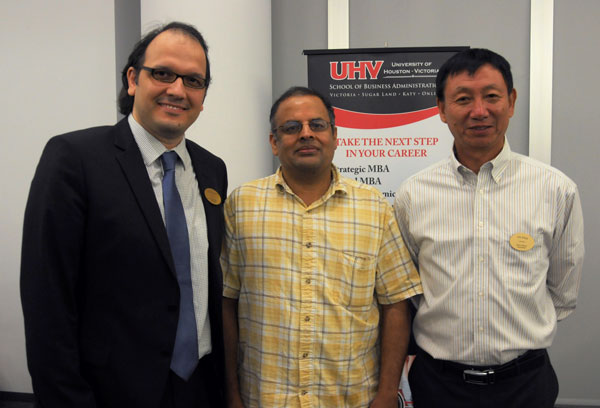 University of Houston-Victoria business faculty members Nazif Durmaz, left, Rajan Selvarajan and Jifu Wang are the 2013-2014 Partnership Professors. They each will receive $3,000 for their research projects.
SUGAR LAND – Three faculty members in the University of Houston-Victoria School of Business Administration recently were named Partnership Professors for their professional accomplishments.
Nazif Durmaz, Rajan Selvarajan and Jifu Wang, were named the 2013-2014 Partnership Professors during a business school awards reception at UH Sugar Land, where UHV offers many of the programs. Each will be listed as the Partnership Professor of his respective discipline and receive $3,000 in research support.
The School of Business Administration launched the Partnership Professor awards in 2012 to recognize the exceptional achievements of faculty and facilitate ongoing research and other scholarly efforts.
"We have many deserving faculty members, so it's always a difficult decision when it comes to time to choosing the Partnership Professors," said Farhang Niroomand, dean of the UHV School of Business Administration. "Drs. Durmaz, Selvarajan and Wang have demonstrated a deep commitment to providing outstanding teaching, research and service."
Here's a closer look at the recipients:
Nazif Durmaz, an assistant professor, will be the Partnership Professor of Economics. He has taught "Business Statistics," "Managerial Economics" and "Energy Economics" at UHV since joining the faculty in 2012.
Durmaz specializes in real estate economics, international economics and trade, and agricultural and resource economics. He is working on research projects about stock market capitalization in developing markets and the effects of depression in the U.S. economy under zero bound interest rates.
"It's a great honor to be recognized as a Partnership Professor," Durmaz said. "I cannot express enough the importance of working with dynamic colleagues and administrators who have provided the best environment for faculty. The award money will be useful in purchasing specific programs and data sets for my current and future projects."
Rajan Selvarajan, an associate professor, will be the Partnership Professor of Management. He joined the UHV faculty in 2004.
His research and teaching interests focus primarily on human resource management, organizational behavior and strategic management.
"I am currently working on several research projects relating to work/family balance and employee engagement organizations," Selvarajan said. "I am planning to use the award for conducting further survey research in these areas in organizations."
Selvarajan said he was overjoyed to be named a Partnership Professor. He applauded school leaders for recognizing hard work by the business faculty.
"The credit goes to Dr. Niroomand, who has come up with innovative ideas, such as Partnership Professors, for recognizing and promoting faculty excellence in the school."
Jifu Wang, an associate professor, will be the Partnership Professor of Strategy and Decision Science. He began teaching business classes at UHV in 2001.
"I was greatly honored to receive the recognition," Wang said. "I have tried my best to be committed and dedicated because UHV is the place that I love, and this is the institution that I want to serve."
Wang has been instrumental in developing UHV's Chinese academic partnerships. He has led student abroad trips to China and Taiwan. He is working on conducting a survey of multinational corporations in China.
"Most of my research efforts are on multinational corporations and their global strategies," Wang said. "I am conducting a third survey of their strategic moves so that we will have a longitudinal study from the past 14 years. I plan to use the partnership stipend for my research and publications."
The University of Houston-Victoria, located in the heart of the Coastal Bend region since 1973 in Victoria, Texas, offers courses leading to more than 80 academic programs in the schools of Arts & Sciences; Business Administration; and Education, Health Professions & Human Development. UHV provides face-to-face classes at its Victoria campus, as well as an instructional site in Katy, Texas, and online classes that students can take from anywhere. UHV supports the American Association of State Colleges and Universities Opportunities for All initiative to increase awareness about state colleges and universities and the important role they have in providing a high-quality and accessible education to an increasingly diverse student population, as well as contributing to regional and state economic development.