Close
UHV to launch MFA in creative writing
The University of Houston-Victoria will offer a Master of Fine Arts in creative writing in the spring as the university's first terminal degree.
The new program, taught by a group of award-winning authors who are part of the UHV School of Arts & Science faculty, will prepare students for careers in creative writing, communication and teaching.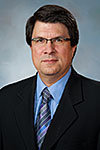 Jeffrey Di Leo
"With top-notch faculty leading the classes and a strong literary foundation in place to help students succeed, graduates of this new program will be highly competitive for jobs as authors, editors and writing teachers," said Jeffrey Di Leo, dean of the UHV School of Arts & Sciences. "Those positions are part of a growing field."
UHV will offer two new graduate courses in support of the program this spring. The courses will be workshops in poetry and fiction.
Diana López, interim director of the UHV creative writing program, said students who earn a terminal degree can teach college courses. A terminal degree is the highest academic degree in a field of study. In other fields, a doctorate is required, but the Master of Fine Arts serves as the final degree in fine arts.
López, an acclaimed fiction writer whose recent young adult novels, including "Confetti Girl," have been popular with adolescents, said students who apply for MFA programs first and foremost want to be writers.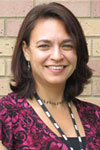 Diana López
"But there's a reason for the expression, 'If you want to be a writer, don't quit your day job,'" she said. "It's really hard to make a living as a writer, especially for creative writers. A master's degree opens doors to graduates both in writing and teaching."
The MFA in creative writing will be a low-residency program with courses online to accommodate students in the Crossroads region and beyond. The residency portion of the degree will be a thesis defense. When students are ready to finish the program, they will come to Victoria for several days to present their work.
"The students will have a chance to respond to faculty questions and critiques, and engage with other students," López said. "We thought it was important to have a meaningful social component to the program along with the academic components."
UHV will be the only university in Texas with a low-residency MFA program, Di Leo said.
"The low-residency element distinguishes our program from others in the state," he said. "I think it will open the door to students who want an MFA but can't move to a university town for two years."
Another unique aspect of UHV's MFA in creative writing is the option of a Latino literature and culture component. That could be of particular interest to students seeking jobs in Texas or other border states, Di Leo said.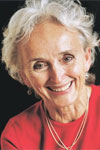 Beverly Lowry
"It goes hand-in-hand with our designation as a Hispanic-Serving Institution," he said. "While not a requirement, we wanted to give students the opportunity to take Latino literature courses at the graduate level as program electives."
The 36-credit-hour program requires 12 hours of creative writing workshops, 18 hours of literature or publishing electives, and six hours of a master's thesis. The culminating project is a book-length work of either poetry, short stories, creative nonfiction or a novel.
The decision to start the MFA at UHV comes on the heels of the university launching a Bachelor of Arts in humanities – creative writing in fall 2012. UHV Writer-in-Residence Beverly Lowry said the MFA is the natural next step.
"Adding a creative writing bachelor's and master's program in short order is a bold move by university leaders," said Lowry, who has authored six novels, three nonfiction works and served as the director of the creative nonfiction program at George Mason University in Fairfax, Va. "I think bold moves are called for in academia to put a school on the map and increase visibility. UHV has the necessary technological facilities here to succeed, and we can draw on the outstanding faculty we already have in place."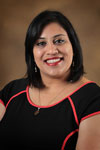 Saba Razvi
A spring poetry class will be taught by Saba Razvi, a new UHV faculty member who writes poetry, criticism and fiction. She released a collection of poems last year called "Of the Divining and the Dead."
"The class will not only teach students about the craft and form of poetry, but also about theory," Razvi said. "Those components could appeal to literature, creative writing or publishing students, as well as others in the community. Students will produce quite a bit of their own work, but they also will be reading from traditional favorites and new poets."
Applications are now being accepted for the MFA program. Prospective students can find information about applying to graduate school at UHV by calling 361-570-4110 or visiting www.uhv.edu/admissions. Beyond the graduate admission requirements, applicants should submit a 20- to 30-page writing sample and letters of recommendation to López
For more information about the programs or applying, contact López at lopezdm1@uhv.edu or 361-570-4229.
The University of Houston-Victoria, located in the heart of the Coastal Bend region since 1973 in Victoria, Texas, offers courses leading to more than 80 academic programs in the schools of Arts & Sciences; Business Administration; and Education, Health Professions & Human Development. UHV provides face-to-face classes at its Victoria campus, as well as an instructional site in Katy, Texas, and online classes that students can take from anywhere. UHV supports the American Association of State Colleges and Universities Opportunities for All initiative to increase awareness about state colleges and universities and the important role they have in providing a high-quality and accessible education to an increasingly diverse student population, as well as contributing to regional and state economic development.