Close
UHV/ABR author writes poetry to learn what's on his mind
Whether it's Halloween or any other day of the year, Christopher Howell isn't afraid to let ghosts and other creatures have a voice in his poems when the situation calls for it.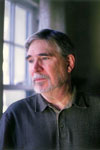 Christopher Howell
The next author featured in the Fall 2013 University of Houston-Victoria/American Book Review Reading Series has a section in his latest poetry book, "Gaze," devoted to imagination and alternate reality. Howell speaks through his own voice as well as the voices of other characters, ghosts and creatures.
"The direction of the poems implied the voice of some other kind of entity that was quasi-human, superhuman or celestial," he said. "I don't set out to evoke creatures or presences. They creep in there because the poem wants them in there. I'm open to that, whereas there are a lot of poets who are uncomfortable with it."
Howell will read from "Gaze" and his other works at noon Nov. 7 in the Alcorn Auditorium of UHV University West, 3007 N. Ben Wilson St. The public is invited to attend the free event, and light refreshments will be served.
Howell has authored 10 volumes of poetry, a collection of essays and is the editor of an anthology. The book "Dreamless and Possible," published in 2010 by the University of Washington Press, encompasses three decades of distinguished work drawn from his previous books.
Howell said going back to review his past poems for "Dreamless and Possible" was both pleasant and taxing. The challenging part was choosing what materials made the cut so he wouldn't exceed the publisher's page limit.
"I was surprised I didn't find much to represent my first two books," he said. "There's always a temptation to rewrite poems, but I didn't do that. It seemed not quite fair."
Howell said the five-month review process served as a trip down memory lane.
"I attach the poems to memories of my life," Howell said. "The revisitation was productive, and it did stimulate some writing about the past. I've not thought about writing a memoir, but it did put me in a state of mind where I was open to re-encountering aspects of my life from long ago."
Howell worked as a military journalist during the Vietnam War and had a stint as a private investigator before embarking on a teaching career in Massachusetts, Colorado, Kansas, Oregon and Washington. He is a professor of creative writing at Eastern Washington University in Cheney.
Howell said the graduate workshops he's taught have been as instructive for him as it was for his students.
"I feel like we are in there together," he said. "There's no finite body of knowledge about poetry. It's always shifting, growing and changing."
Like the ghost example in "Gaze," Howell said he doesn't have an end destination in mind when he writes poems. He writes the poem to find out where it goes. Howell said he finds a lot of truth in a quote from poet Gary Snyder, who said he wrote to find out what was on his mind.
"I don't always know what's on my mind, and poems help me find out," Howell said. "From the perspective of not knowing how it will end, the reader and I are in the same boat. I think that's good. I want the reader and I to have the same experience with the poem."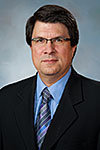 Jeffrey Di Leo
Howell co-founded and operated Lynx House Press, an independent nonprofit publisher devoted for more than 25 years to extending and enhancing the cultural conversation through the publication of fine poetry and fiction.
He has won numerous awards including the Washington State Governor's Award, the Washington State Book Award and three Pushcart Prizes. He also was awarded National Endowment Creative Writing fellowships in 1981 and 2001.
Jeffrey Di Leo, dean of the UHV School of Arts & Sciences, said he's delighted Howell will be visiting UHV.
"Mr. Howell uses a great amount of honest emotions in his poems," Di Leo said. "UHV students, faculty and staff, as well as local community members, will enjoy listening to him present his work."
ABR is a nonprofit, internationally distributed literary journal that is published six times a year. It began in 1977, moved to UHV in 2007 and has a circulation of about 8,000. The journal specializes in reviews of works published by small presses.
The final writer scheduled for the Fall 2013 UHV/ABR Reading Series is Paul Ruffin on Nov. 21. Best known as a short story author, Ruffin also writes novels and poetry that often focus on the South's people, landscape and attitudes. He is the author of "Circling," which won the Mississippi Institute of Arts and Letters Award, and is a member of the Texas Institute of Letters.
For more information about the UHV/ABR Reading Series, call the ABR office at 361-570-4101 or go to www.americanbookreview.org.
The University of Houston-Victoria, located in the heart of the Coastal Bend region since 1973 in Victoria, Texas, offers courses leading to more than 80 academic programs in the schools of Arts & Sciences; Business Administration; and Education, Health Professions & Human Development. UHV provides face-to-face classes at its Victoria campus, as well as an instructional site in Katy, Texas, and online classes that students can take from anywhere. UHV supports the American Association of State Colleges and Universities Opportunities for All initiative to increase awareness about state colleges and universities and the important role they have in providing a high-quality and accessible education to an increasingly diverse student population, as well as contributing to regional and state economic development.