Close
UHV student government officers gain momentum at national leadership conference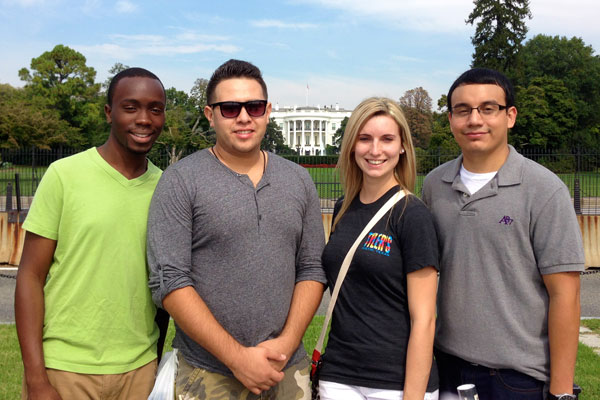 UHV student government leaders Moses Olukoya, left, Benito Salazar, Laura Caldwell and Eliseo Olvera visit the White House during a recent trip to Washington, D.C., where they attended the American Student Government Association's National Summit.
Against the backdrop of the national government shutdown in October, student government leaders from the University of Houston-Victoria convened with peers nationwide to discuss ideas about how to make an impact.
Every year, UHV Student Government Association officers attend the American Student Government Association's National Summit, held in Bethesda, Md., near the nation's capital, to get leadership training, network with peers from around the country, and learn ideas for improving the efficiency and effectiveness of their student governments.
"It was a really good trip for us because we learned a lot of new ideas at the conference," said Moses Olukoya, president of UHV's Student Government Association.
Other UHV Student Government Association representatives who attended the conference were Eliseo Olvera, vice president; Laura Caldwell, secretary; and Benito Salazar, treasurer. They were accompanied by Ashleigh Kellis-Carr, the association's adviser and a UHV Student Success coach.
During the conference, the students split up to attend seminars on different topics and then reconvened to decide which strategies to implement at UHV. The final step was creating an action plan.
The conference taught the students more about where their power as student government representatives comes from – the association's constitution and bylaws. The conference got the students really excited about their leadership duties, Kellis-Carr said.
"They learned they do have a chance to make an impact and help change the school for the better," she said.
The national government shutdown made this year's conference especially memorable, students said.
"Not a whole lot of people can say they were in D.C. when the government was shut down," Olukoya said. "We saw how it affected the community as a whole, which was eye-opening."
Many of the historic landmarks were closed, so they could not go inside them, but they visited several landmarks, including Capitol Hill, the White House and the National Mall.
Upon returning home, the officers set about working toward their goals, which include creating more structure within the SGA and making the organization more visible on campus.
"If everybody as a whole works together as a team, then everybody can make a difference in their own way," Olukoya said.
A junior from San Antonio, Salazar concurred and said that teamwork and cooperation could have prevented the national government shutdown.
"We won't have that issue in our student government," he said. "If there were ever any disagreement in our student government, we would rather resolve it than shut down."
The University of Houston-Victoria, located in the heart of the Coastal Bend region since 1973 in Victoria, Texas, offers courses leading to more than 80 academic programs in the schools of Arts & Sciences; Business Administration; and Education, Health Professions & Human Development. UHV provides face-to-face classes at its Victoria campus, as well as an instructional site in Katy, Texas, and online classes that students can take from anywhere. UHV supports the American Association of State Colleges and Universities Opportunities for All initiative to increase awareness about state colleges and universities and the important role they have in providing a high-quality and accessible education to an increasingly diverse student population, as well as contributing to regional and state economic development.