Close
UHV student puts recording studio on hold to accelerate nursing career
Not too long ago, if you were on the hunt for Jeremy Bludau, you knew where to find him.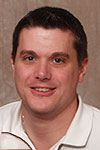 Jeremy Bludau
The University of Houston-Victoria student was likely holed up inside The Nest Sound Studio, a professional recording studio that he and a friend opened in 2009. The studio was Bludau's home away from home.
The endeavor was a dream come true for the lifelong music lover whose passion for recording started early on.
"I don't even know how old I was when I started, but I was little," he said as he laughed. "I used to play around with a tape recorder and record my own songs and skits. As a result, I got into developing an ear for how things sound."
That passion continues today, but for now, it's on hold because Bludau has his sights on a big career move. The 33-year-old Victoria native is one of 15 students who make up UHV's first class of family nurse practitioner students. The UHV School of Nursing began offering the new master's program in the fall.
"It's an intense program," he said. "I'm not working as a nurse, and I'm really not recording. Right now, my life is all about school and my 1-year-old son, Gage. But I'm really enjoying it."
It was an interest in biology and the human body that initially led Bludau to medicine, he said. His favorite part about the five years he spent as a nurse was knowing that he was helping others.
"In the ICU, I've seen miracles happen," Bludau said. "That's the reward and it feels really good to be a part of that."
Once he becomes a nurse practitioner. he'll have the chance to become a primary care provider. Not only will he be able to help his patients feel better, but he'll be the one making important health care decisions.
"As a nurse, you're helping people, but the doctor is the one in control," Bludau noted. "As a nurse practitioner, I'll be armed with more knowledge and skills. I want to accelerate my career."
Bludau graduated Victoria High School in 1998 and soon after earned an associate degree from Victoria College. He later joined the ranks of the Jaguars, earning a bachelor's degree in nursing from UHV.
Bludau's advice to others working on going after their goals is to prioritize what is most important. That's likely what will take the most time and effort, and it will mean some sacrifice, he said. But in the end, it's worth it.
An open mind also makes a difference.
"Take advice from others," he said regarding study habits. "We get kind of stuck in how we do things. But if you take other people's suggestions and try them out, you might be surprised at the end result."
As for what comes next, Bludau said he isn't 100 percent sure. He might join a clinic or perhaps continue on toward his doctorate.
"I just want to get through this first," he said of the master's program.
I am a Jaguar is an online feature highlighting the exceptional students who attend the University of Houston-Victoria. To nominate a student, email Paula Cobler , UHV director of marketing and communications, or call her at 361-570-4350.
The University of Houston-Victoria, located in the heart of the Coastal Bend region since 1973 in Victoria, Texas, offers courses leading to more than 80 academic programs in the schools of Arts & Sciences; Business Administration; and Education, Health Professions & Human Development. UHV provides face-to-face classes at its Victoria campus, as well as an instructional site in Katy, Texas, and online classes that students can take from anywhere. UHV supports the American Association of State Colleges and Universities Opportunities for All initiative to increase awareness about state colleges and universities and the important role they have in providing a high-quality and accessible education to an increasingly diverse student population, as well as contributing to regional and state economic development.