Close
UHV assistant professor researches first-generation college students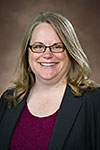 Joann Olson
People can't always explain why things happen the way they do. Sometimes situations just work.
When University of Houston-Victoria assistant professor Joann Olson – a first-generation college student – looks back at her time in school, she said the odds should have been against her.
"I shouldn't have succeeded," she said, explaining most students in her situation face barriers that make higher education difficult. "When you look at research related to student success, first-generation students are much less likely than other students to finish a bachelor's degree, much less continue on to graduate school. Statistically, I'm an anomaly."
Today the educator focuses much of her research on other first-generation students, speaking with them after graduation about what worked, what didn't and areas in which universities can improve.
Networking is one area that often arises in the conversations. Many students she speaks with have parents who maintained blue-collar jobs or migrant work.
"Most of these students will probably go into white-collar jobs, and there are some norms that are very different when it comes to what is considered professional behavior," Olson said. "It isn't always easy to make that transition, especially if there isn't anyone within a family or relational network to talk to about it."
Olson was born and raised in Wisconsin. She earned her bachelor's degree in employment relations, with a double major in psychology, from Michigan State University in East Lansing. She went on to earn her master's degree in Christian formation and ministry from Wheaton College in Illinois and a doctorate in adult education from the Pennsylvania State University in State College.
Olson joined the UHV School of Education & Human Development faculty in August 2012 as an assistant professor of adult and higher education. Because the courses are online, she has students from all over.
"Most students are in Texas, but last spring, I had a student who was in Germany," she said. "In fall, I had one in China. It's great because, with the unique experiences everyone brings to the table, we're learning about adult and higher education in a variety of settings. In a program like this, we benefit from having everyone engage."
Away from the virtual classroom, Olson does Hardanger embroidery, a hobby with Norwegian roots that several in her family have taken on. The self-taught do-it-yourselfer also enjoys tackling home improvement projects. Because she typically understands her limits, she's seen good results.
"I tend to buy houses that need a little love and then work to make them better," she said. "I got rid of a scary bathroom this summer, but now I still have a pink bathroom to contend with. In the house I bought, the previous owners did a lot of landscaping. I'm trying not to kill it."
Olson said she enjoys her work with UHV and hopes to see the adult and higher education program continue to grow and flourish. This semester is the first time offering professional coaching classes.
Education is an intriguing field, she said. On one hand, so many aspects are locked down when it comes to state regulations. Still, constantly changing teaching methods and technologies bring a need to incorporate new elements into lessons.
Luckily, UHV works to stay on top of it all.
"It's been fun to be in a place with such a well-designed program that is meeting a real need," she said. "I love what I'm doing."
The Faculty Feature is an online feature highlighting faculty members from each of the University of Houston-Victoria's four schools. To nominate a faculty member, email
Paula Cobler
, UHV director of marketing and communications, or call her at 361-570-4350.
The University of Houston-Victoria, located in the heart of the Coastal Bend region since 1973 in Victoria, Texas, offers courses leading to more than 80 academic programs in the schools of Arts & Sciences; Business Administration; and Education, Health Professions & Human Development. UHV provides face-to-face classes at its Victoria campus, as well as an instructional site in Katy, Texas, and online classes that students can take from anywhere. UHV supports the American Association of State Colleges and Universities Opportunities for All initiative to increase awareness about state colleges and universities and the important role they have in providing a high-quality and accessible education to an increasingly diverse student population, as well as contributing to regional and state economic development.