Close
Outstanding nursing school graduates ready for careers
Though nursing students Judy Jacob-Mathew and Emily Parkinson are set to graduate this month at the top of their class, getting perfect scores wasn't their inspiration. It was helping people.
"It was never really my goal to graduate so high in my class," said Parkinson, referring to her 4.0 grade-point average in the School of Nursing at the University of Houston-Victoria. "I studied hard because I wanted to give the best care possible to my patients. I didn't want my patients someday to have a bad outcome because I didn't know enough."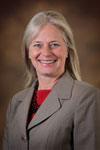 Kathryn Tart
Their academic excellence led UHV's School of Nursing to name them its Outstanding Fall Graduates. This month, Jacob-Mathew will receive her Master of Science in Nursing with an emphasis on nursing education and Parkinson her Bachelor of Science in Nursing.
"Throughout their time at UHV, Judy and Emily have consistently demonstrated a wholehearted commitment to excellence," said Kathryn Tart, dean of the UHV School of Nursing. "Their aptitude for science and their genuine concern for the well-being of others will surely take them far in nursing."
Each semester, professors from the four UHV schools select an outstanding student from both their graduate and undergraduate programs to be honored during commencement. GPA is a key consideration. UHV will hold fall commencement at 11 a.m. Saturday in the Leonard E. Merrell Center, 6301 S. Stadium Lane in Katy.
Houston resident Jacob-Mathew has been a nurse for 11 years. She has worked for the last several years in the birthing center of Houston Methodist Sugar Land Hospital. She enjoys obstetrics and plans to continue in it.
"There is joy, and occasionally sadness, but being there for my patients is a big part of my work. I want to be there for them regardless of the situation," she said.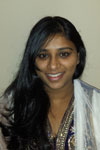 Judy Jacob-Mathew
Jacob-Mathew said she has a passion for helping people who cannot help themselves.
"Most people don't like coming to a hospital, but they're coming to the hospital because they need help, and they're coming to you as a nurse for knowledge and help," she said. "To me, it's a wonderful feeling to be able to help them."
She was born in New York City after her parents moved to the U.S. from India. Her father came to study health care administration. The family ultimately settled in Houston, where her parents worked in the MD Anderson system.
Jacob-Mathew earned her BSN in 2007 from UHV. After graduating with her master's degree this month, she plans to continue working at the hospital and eventually transition into an on-site nursing educator role in a similar clinical setting.
She enthusiastically praised UHV's School of Nursing for having excellent educators.
"The professors, the teachers – every single one of them has been awesome," Jacob-Mathew said. "They inspire us to do more, be more active in the community, and be more involved in the profession itself, and they challenge us to be up to date on the latest medical information."
Likewise, Parkinson said UHV has been instrumental in helping her assist others.
"I wanted to become a Registered Nurse as fast as possible, and when looking for a school, UHV met all my needs," she said.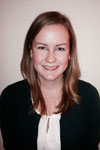 Emily Parkinson
Parkinson was particularly drawn to UHV for its accelerated BSN degree program.
"What's really special to me about UHV is you get to be part of a large school with a big name, yet the undergraduate nursing program only accepts 60 students," she said. "It's very much one-on-one with your professors."
Born and raised in Magnolia, Parkinson also holds a bachelor's degree in community health from Texas A&M University.
After graduating this month from UHV, she plans to work as a nurse in critical care ICU, operating rooms, or labor and delivery.
"I'm just excited to start my career," she said.
Parkinson previously worked in ophthalmology.
"I've always had a passion for people and for science and anatomy, and it took me a long time to figure out that I needed to go for nursing," she said. "I loved interacting with patients and learning about their medications, and felt I could really teach them and make a difference. That's what led me to nursing."
Parkinson also was inspired by her parents' struggle with different illnesses, she said, adding, "I always felt I needed to give back and care for people."
For more information about the UHV School of Nursing, visit www.uhv.edu/nursing or call 877-970-4848, ext. 4370.
The University of Houston-Victoria, located in the heart of the Coastal Bend region since 1973 in Victoria, Texas, offers courses leading to more than 80 academic programs in the schools of Arts & Sciences; Business Administration; and Education, Health Professions & Human Development. UHV provides face-to-face classes at its Victoria campus, as well as an instructional site in Katy, Texas, and online classes that students can take from anywhere. UHV supports the American Association of State Colleges and Universities Opportunities for All initiative to increase awareness about state colleges and universities and the important role they have in providing a high-quality and accessible education to an increasingly diverse student population, as well as contributing to regional and state economic development.