Close
UHV alumnus promoted to JPMorgan Chase vice president
Less than a year after graduating from the University of Houston-Victoria School of Business Administration, Manan Sharma was promoted to a vice president position at JPMorgan Chase & Co.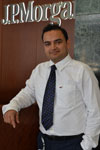 Manan Sharma
Sharma, an investment banker who lives in Katy, earned his Master of Business Administration in May. He credits UHV's professors and courses for helping him get ready for additional roles and responsibilities at his company.
"I met some really good professors at UHV with lots of experience and exposure to real-world problems and resolutions," Sharma said. "I was fascinated with their teaching and knowledge. The key for me was reaching out to them. When I did so, they were willing to help. The more I interacted with them, the more comfortable and easy it was for me to understand my courses."
Sharma has worked for JPMorgan Chase since 2008. He was promoted to vice president on Jan. 29. He's part of the company's Risk Department, which provides regulatory information to the federal government, the Security and Exchange Commission and other company departments.
Originally from India, Sharma has worked in the U.S. since 2002. He previously served in information technology and engineering roles for Circuit City, John Hancock Financial Services, Fidelity Investments and Lowe's Home Improvement.
To learn new skills and advance his career, Sharma said he chose UHV because it was within his budget and close to his home. He took face-to-face business classes at the UH System at Cinco Ranch and UH Sugar Land, both of which are teaching centers where UHV offers programs.
"The university has a good reputation in Houston," Sharma said. "My colleagues, who are UHV alumni, spoke favorably about attending school there. Now I see why they did."
Sharma said what he learned at UHV already has helped him considerably in his new position. The MBA introduced him to new business skills, such as strategic management, development and marketing.
"I had little prior exposure to those topics," Sharma said. "My MBA courses helped leverage my career path and enhanced my overall thinking about business and strategy."
One of the aspects Sharma liked most about UHV was the diverse student body. He said that since students were from different fields, he learned from their experiences.
"It helped a lot in building both confidence and understanding," Sharma said. "I really enjoyed sharing and exchanging work and studying experiences with them. This diversity not only expanded my view, but also helped me learn how to collaborate with diverse people."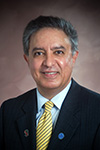 Farhang Niroomand
Along with Oluwaseun Aduwo and Morolake Imoisili, Sharma took first place in the Strategic Simulation Competition during UHV's Spring 2013 MBA Conference. Both of Sharma's teammates were from Nigeria. One worked in the restaurant business, and the other had a design background.
"Normally, people with restaurant, design and finance backgrounds would not work together, but that's what made it a memorable experience," he said. "It took a lot of hard work to come up with a presentation, but it paid off in the end."
Farhang Niroomand, dean of the UHV School of Business Administration, said it's terrific to hear about alumni moving up the corporate ladder.
"It's not uncommon for us to have students like Mr. Sharma, who already have successful careers in one area of business but are looking to expand their knowledge in related subjects," Niroomand said. "We strive to make our courses relevant so that our graduates have the opportunity to move ahead in their careers. I wish Mr. Sharma all the best in his role as vice president."
The University of Houston-Victoria, located in the heart of the Coastal Bend region since 1973 in Victoria, Texas, offers courses leading to more than 80 academic programs in the schools of Arts & Sciences; Business Administration; and Education, Health Professions & Human Development. UHV provides face-to-face classes at its Victoria campus, as well as an instructional site in Katy, Texas, and online classes that students can take from anywhere. UHV supports the American Association of State Colleges and Universities Opportunities for All initiative to increase awareness about state colleges and universities and the important role they have in providing a high-quality and accessible education to an increasingly diverse student population, as well as contributing to regional and state economic development.