Close
UHV $10,000 grants to aid education, sports prediction research
While this year's NBA playoffs have largely been unpredictable, a statistical tool being developed by a University of Houston-Victoria assistant math professor may come in handy for future basketball prognostication.
Ricardo Teixeira, assistant professor in the UHV School of Arts & Sciences, will further his research this summer developing a mathematical prediction tool for NBA and NFL outcomes. He and Joann Olson, an assistant professor of adult and higher education in the UHV School of Education & Human Development, recently each were awarded $10,000 research grants.
UHV has given the awards the past six summers to junior faculty pursuing promising research projects. Junior faculty members are faculty who are on a tenure track but are not yet tenured. A committee of tenured UHV professors evaluates proposals and then recommends who receives the awards.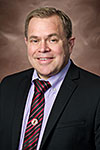 Jeffrey Cass
Jeffrey Cass, UHV provost and vice president for academic affairs, said he is looking forward to hearing about Olson and Teixeira's research findings.
"Both of their research proposals showed a lot of promise," Cass said. "I'm pleased we can once again hand out these grants to junior faculty members. In years past, it really helped propel research forward and led to additional dialogue and funding opportunities."
Olson is working on four projects simultaneously. The first project is a qualitative study on how college recruiters do their work. She has collected data during the past year from recruiters and will analyze the results this summer.
"A lot of the literature regarding first-generation college students is about how they make their decisions after being recruited," Olson said. "What I have found is that no one has talked to the recruiters. They are the ones talking with hundreds of students each semester. How are they shaping the messages and, ultimately, how can we equip them to do it better?"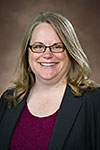 Joann Olson
The second project is about freshmen who are the first in their families to attend college and how they develop the tenacity to become successful college students. The third project looks at how successful first-generation college students are in their jobs after graduation. It's an extension of Olson's dissertation.
"I've been looking at how first-generation college students do with understanding a different type of work environment than their parents had," Olson said. "How do they understand white-collar norms like networking and workplace politics? In many cases, it was not part of their background or their parents' backgrounds."
Olson said her research is especially relevant at UHV since a key objective is freshman retention.
"I can see each of the projects playing into what we do to help students navigate the process," she said.
The subject for the fourth project is higher education staff members and specifically how they learn to do new jobs after changing positions.
"Many staff members change jobs rapidly and repeatedly with very little formal training," Olson said.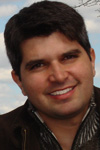 Ricardo Teixeira
Meanwhile, Teixeira plans to continue his research on abstract mathematics. He will spend three weeks in his native Brazil discussing problems and developing ideas with other mathematicians.
"I do research with spaces of infinite dimension," Teixeira said. "I started this research while working toward my doctorate at the University of Texas at Austin. I have some collaborators at UT and some in Brazil."
Teixeira is a big soccer fan, but the complication with predicting soccer is there are too many ties.
"This tool will be able to do lots of things, but the initial motivation is to predict games," he said. "There's a lot of data in professional football and basketball for us to use, and there are a lot of applications for it. There are peer-review journals just dedicated to sports."
Teixeira has compared predictions made by ESPN broadcasters, who use a mix of statistics and opinions, with predictions made using the tool, which only relies on numbers.
"Our tool is comparable to NFL analysts," Teixeira said. "During the last 12 years, ESPN broadcasters predicted the correct team 63.02 percent of the time. Using the tool retroactively, the correct team was predicted 63.10 percent of the time."
Assisting Teixeira with the sports predictor research will be graduate students Erin Gabrysch and Alexandra Corbin. They also will help Teixeira adapt the tool to predict consumer decisions.
"Companies like Netflix already are doing this, but this tool will give people a different perspective," Teixeira said. "We are developing it to be flexible for sports, movies and biology, to name a few. Hopefully, we'll answer a lot of research questions during the summer."
Teixeira said it's great that UHV awards the grants to faculty members, so they can advance their research.
"Once junior faculty members develop results, it could open doors for other grants with national agencies," Teixeira said. "It will be much easier for us to be funded once we show a nice record of research."
The University of Houston-Victoria, located in the heart of the Coastal Bend region since 1973 in Victoria, Texas, offers courses leading to more than 80 academic programs in the schools of Arts & Sciences; Business Administration; and Education, Health Professions & Human Development. UHV provides face-to-face classes at its Victoria campus, as well as an instructional site in Katy, Texas, and online classes that students can take from anywhere. UHV supports the American Association of State Colleges and Universities Opportunities for All initiative to increase awareness about state colleges and universities and the important role they have in providing a high-quality and accessible education to an increasingly diverse student population, as well as contributing to regional and state economic development.