Close
UHV/ABR Reading Series honored by UH System Board of Regents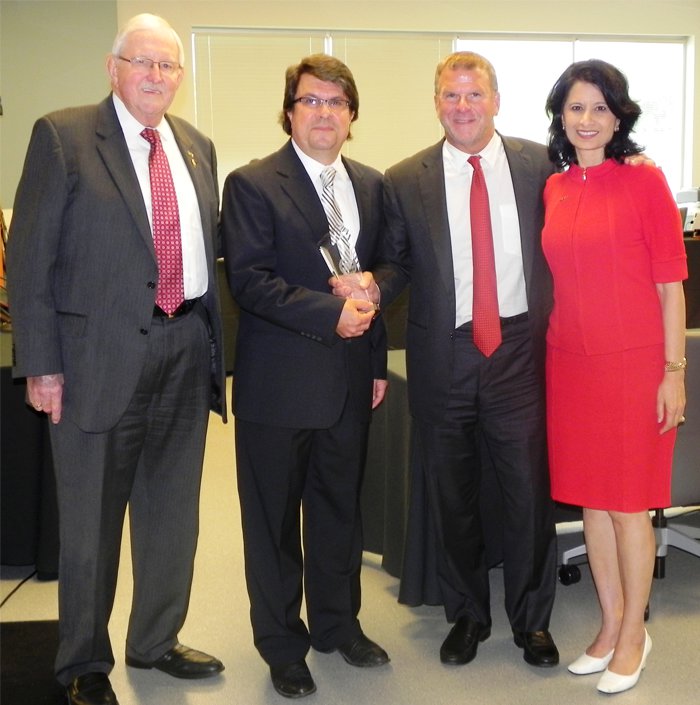 Jeffrey Di Leo, second from left, University of Houston-Victoria/American Book Review editor and publisher, accepts the Regents' Academic Excellence Award. The ABR Reading Series was honored Thursday by the UH System Board of Regents at its board meeting in Victoria. Joining Di Leo are UHV President Vic Morgan, left, Regents Chairman Tilman Fertitta and UH System Chancellor Renu Khator.
For nearly 10 years, authors have come to Victoria to read their work, provide advice and share stories from the literary trenches, and in the process, the University of Houston-Victoria/ American Book Review Reading Series has become one of the premier events of its kind.
On Thursday, the ABR Reading Series was presented with the Regents' Academic Excellence Award by the UH System Board of Regents.
The award recognizes University of Houston System institutions' programs and initiatives that exemplify excellence in teaching, research and public service. The award was presented during the Board of Regents meeting held in UHV University North. It was the first time the board had met in Victoria since May 2010.
"We are proud to recognize the achievements of this longstanding program with the Regents' Academic Excellence Award," said Paula Myrick Short, UH System senior vice chancellor for academic affairs and UH provost and senior vice president of academic affairs. "The American Book Review Reading Series furthers our connection with the campus community and sheds light on the works of outstanding writers."
Founded in 1977 by novelist Ronald Sukenick, American Book Review was designed to offer a unique model for reviewing books, one edited by writers themselves in an effort to reproduce the interest they took in their peers' works of fiction, poetry and criticism. This collective approach remained intact while responsibility for producing the journal was assumed in 1987 by the University of Colorado at Boulder and then in 1996 by Illinois State University.
In 2006, Jeffrey Di Leo, dean of the UHV School of Arts & Sciences, joined Charles Harris as ABR co-editors and moved operations to UHV. The next year, Di Leo became the sole editor and publisher.
The UHV/ABR Reading Series began on Sept. 13, 2006, with a reading by novelist Graciela Limon. Legendary writer Robert Coover gave the 50th reading in March 2012, and Nan Cuba, founder and executive director emeritus of the nonprofit literary center Gemini Ink in San Antonio, was the 75th author to visit in November 2014.
In all, 89 authors or publishers have given readings, met with students, signed books and attended functions in the community.
"As a result of the ABR Reading Series, UHV has developed a top-10 master's publishing program, received funding from the National Endowment for the Arts; increased our community outreach, development and engagement; and further enhanced the reputation of UHV as a nationally recognized hub for humanities publications," Di Leo said.
Since the reading series began, UHV has added a Master of Science in publishing, a Master of Fine Arts in creative writing and a Bachelor of Arts in humanities with a concentration in creative writing. Several UHV faculty members teaching the programs are authors who gave readings during the series.
"The reading series has been instrumental in raising the profile of UHV as a destination for the literary arts," Di Leo said. "The connections we have made with authors through the series from across the country have been immensely valuable. It's also a treat for our students and community members to interact with authors and learn firsthand about writing and publishing."
This is the first time UHV has received a Regents' Award for Academic Excellence. A video presentation about the ABR Reading Series was shown at Thursday's Regents meeting.
"The American Book Review Reading Series is a tremendous source of pride for UHV, and I'm delighted the series received this recognition from the Board of Regents," UHV President Vic Morgan said. "Dean Di Leo and his team deserve credit for making the series a treasured event in Victoria every time an author visits."
The University of Houston-Victoria, located in the heart of the Coastal Bend region since 1973 in Victoria, Texas, offers courses leading to more than 80 academic programs in the schools of Arts & Sciences; Business Administration; and Education, Health Professions & Human Development. UHV provides face-to-face classes at its Victoria campus, as well as an instructional site in Katy, Texas, and online classes that students can take from anywhere. UHV supports the American Association of State Colleges and Universities Opportunities for All initiative to increase awareness about state colleges and universities and the important role they have in providing a high-quality and accessible education to an increasingly diverse student population, as well as contributing to regional and state economic development.