Close
Math and computer science skills earn UHV student $5,000 in scholarships
You don't need a computer to do this math.
Hard work plus computers skills times three years at the annual Math-Computer Science Awareness Day equals $5,000 in scholarships to the University of Houston-Victoria.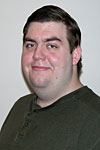 Eric Neill
Eric Neill, who will be a junior at UHV in the spring semester, is the first student to claim scholarships awarded by UHV during the event after he competed in contests in 2004, 2005 and 2006.
Neill will receive $1,250 each semester for the next four semesters as long as he maintains a 3.5 grade-point average as a full-time student.
The event, jointly organized by UHV and The Victoria College, offers students a chance to attend workshops about math and computer science topics and take tests on their computing and numerical knowledge. Scholarships are awarded as prizes for test takers.
"I had a computer science teacher who always encouraged us to go to Math-Computer Science Awareness Day," Neill said. "She said, 'You might as well compete. Even if you don't win anything, at least you'll have the experience.'"
So he took her advice and attended his sophomore through senior years. Neill won two first alternates and one second-place prize.
After completing his lower-division work at The Victoria College, Neill walked into the UHV Financial Aid Office on Friday to see what kind of financial support he could get.
Neill thought he'd receive a few hundred dollars at most toward his bachelor's degree in computer science.
Much to his surprise, he found that the top scholarship winners hadn't collected their winnings in a timely fashion, so those prizes defaulted to him.
"I never in my wildest dreams thought I would get that kind of a scholarship," he said.
Neill originally thought of going to the University of Texas at Austin, but changed his plans when he realized he could get a quality computer science education in Victoria at a much lower cost.
That cost got significantly more affordable because of his participation in the awareness day events.
"I'm overjoyed. I never thought I'd get that much out of it," he said, adding that the scholarships are the best thing he's ever gotten out of taking a test.
The scholarships were made possible by generous grants from Alcoa Foundation.
"We have been strong supporters of UHV's Math-Computer Science Awareness Day for several years because Alcoa is committed to ensuring that math, science and technology higher education is available to everyone," said Laurel Cahill, Alcoa public affairs representative. "We are delighted to fund these scholarships that will help this young man reach his future career goals and help the School of Arts and Sciences attract and educate more talented students like him."
Neill represents an important object lesson, one UHV leader said.
"Mr. Neill proves that a big part of success is just showing up," said Jeffrey Di Leo, dean of the UHV School of Arts & Sciences, which houses the computer science programs. "I'm glad he's decided to continue his studies with us. We have a wonderful computer science faculty that will give him the knowledge he needs for a bright future."
After he graduates from UHV, Neill wants to earn his master's degree and ultimately a doctorate in computer science. He eventually wants to work in research and development, creating the high-tech tools of tomorrow.
"UHV is a great place to start achieving your dreams," Neill said.
The event, which will have its 13th annual occurrence April 2, is designed to draw more students to study math and computer science in higher education, said Mel Damodaran, a UHV professor of math and computer science and one of the event's founders.
"I'm very pleased to see our efforts bearing fruit," he said. "We hope to see many more students like Mr. Neill in the near future." 
In the years Neill attended, the event was sponsored by UHV, VC, Alcoa Foundation and Dow.
For more information or to obtain registration forms for the contest, contact Damodaran at 361-570-4203 or Minnie Urbano at 361-570-4135.
The University of Houston-Victoria, located in the heart of the Coastal Bend region since 1973 in Victoria, Texas, offers courses leading to more than 80 academic programs in the schools of Arts & Sciences; Business Administration; and Education, Health Professions & Human Development. UHV provides face-to-face classes at its Victoria campus, as well as an instructional site in Katy, Texas, and online classes that students can take from anywhere. UHV supports the American Association of State Colleges and Universities Opportunities for All initiative to increase awareness about state colleges and universities and the important role they have in providing a high-quality and accessible education to an increasingly diverse student population, as well as contributing to regional and state economic development.