Close
High school students learn about robotics, programming during UHV class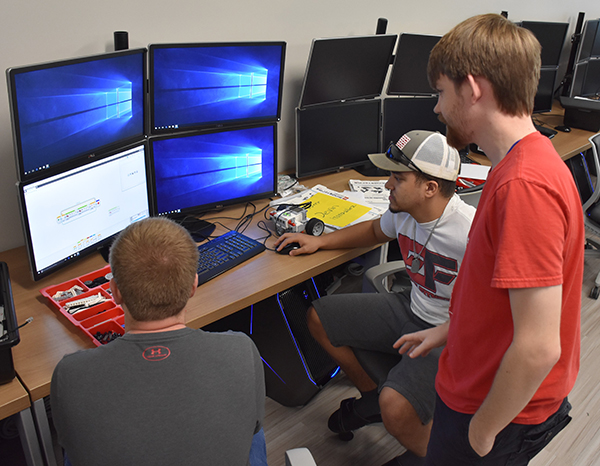 Victoria West High School students junior Riley Doerr, left, and senior Devin Gonzalez, middle, work on programming their robot on Monday as Andrew Polasek, a UHV computer science graduate student, offers some advice. Doerr and Gonzalez are two of 14 high school students taking part in the UHV School of Arts & Sciences' after-school robotics classes on Mondays and Tuesdays at the university. The class is funded by a grant from Alcoa Foundation.
Programming and computers fascinate Devin Gonzalez, so he jumped at the chance to take an after-school robotics class through the University of Houston-Victoria.
"My engineering class teacher told me this was available and encouraged us to apply," said Gonzalez, a Victoria West High School senior. "I enjoy working with computers, and programming is a good skill to have, especially if I become a mechanical engineer."
Gonzalez is one of 14 students taking the UHV School of Arts & Sciences' 2018-2019 Robotics, Programming and Simulation Courses/Research Projects funded by a grant from Alcoa Foundation. The courses are offered Monday and Tuesday afternoons in UHV University North and are led by Amjad Nusayr, a UHV assistant professor of computer science.
"The after-school robotics courses are part of a program the university has offered for years, and I am excited to see it continue," Nusayr said. "We've only met for a couple of weeks, and the students already are starting to develop programs that direct their robots to complete simple tasks. It's wonderful to see how quickly they learn."

The weekly course allows students to work in pairs to build and program robots to fulfill certain functions, such as solve mazes, recognize colors and follow a color-coded path. During the first class meetings, students took an assessment to evaluate their knowledge of science, technology, engineering and mathematics. During the last class at the end of the spring semester, students will take a similar test to evaluate how their knowledge has grown, Nusayr said.
Jace Vasquez, a Victoria West junior, chose to attend the class because he wants to pursue a career in engineering, and learning about coding and robotics is a good fit for his studies.
"This class is giving me the chance to learn all kinds of things I never knew and didn't have the chance to learn about before," Vasquez said. "I'm interested in how and why things work, and I want to be able to apply that knowledge to make things better."
The overall goal of the class is to introduce programming to high school students, including critical-thinking and problem-solving skills. There also is a goal of helping students break away from the intimidation often experienced when studying math and programming, Nusayr said. Students in the after-school classes have been eager to learn about the different programming options and tasks their robots can complete.
"On the first day of class, we started teaching the students all the basics, and just two weeks in, they're already working on programming sensors," Nusayr said. "It's great to see how excited they get about each of their successes as they learn to program and design their robots. That makes my day."
In addition to the class, the grant from Alcoa Foundation allows UHV to offer a robotics summer camp, a math camp, a Texas Women in Computing camp for middle school girls, and a Math & Robotics Awareness Day that allows high school students to learn about the uses of math and robotics in multiple fields.
To learn more about UHV's STEM activities, go to www.uhv.edu/stem-events.
The University of Houston-Victoria, located in the heart of the Coastal Bend region since 1973 in Victoria, Texas, offers courses leading to more than 80 academic programs in the schools of Arts & Sciences; Business Administration; and Education, Health Professions & Human Development. UHV provides face-to-face classes at its Victoria campus, as well as an instructional site in Katy, Texas, and online classes that students can take from anywhere. UHV supports the American Association of State Colleges and Universities Opportunities for All initiative to increase awareness about state colleges and universities and the important role they have in providing a high-quality and accessible education to an increasingly diverse student population, as well as contributing to regional and state economic development.