Close
UHV recognizes exceptional employees
A University of Houston-Victoria network specialist was named the university's 2008 Employee of the Year on Tuesday, and an administrator was recognized for her tireless work toward the effort to expand UHV to a four-year university.
Both network specialist Stanley Lester and Chief of Staff Margaret Rice received top honors at the university's annual Employee Recognition Luncheon. University employees gathered to recognize employees who have been at UHV for at least five years and to honor other employees for their exceptional work.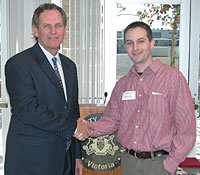 University of Houston-Victoria network specialist Stanley Lester, right, is congratulated by UHV President Tim Hudson on Tuesday after being named the university's 2008 Employee of the Year.
Lester was voted Employee of the Year by his peers. They selected Lester from a ballot listing each 2008 UHV Employee of the Month.
He was a student worker at UHV before being hired in 2001 as a personal computer network specialist in the Information Technology Department. He became a network specialist in 2005. Lester and his wife, Marie, will be new parents in May.
"Stanley is a valuable member of the IT staff," Joe Ferguson, senior director of Information Technology, said after the luncheon. "He's shown his worth during times of pressure, working on critical applications, and on everyday, run-of-the-mill jobs."
In recognition of Lester's achievement, he received a $500 check, a UHV T-shirt and a plaque. His name also was engraved on the Employee of the Year plaque displayed in the University West building.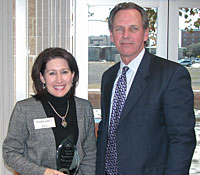 University of Houston-Victoria Chief of Staff Margaret Rice, left, receives a Special Recognition Award from UHV President Tim Hudson on Tuesday.
Rice, who has served in her current job since 2006, completed much of the university's research about the possibility of expanding from an upper-level institution to a four-year university. Legislation that would authorize the change has been drafted and should be voted on by the Texas Legislature this session. If it passes, UHV will accept its first underclassmen in fall of 2010.
This was the first year that a Special Recognition Award was presented at the luncheon.
"I want to give this to someone who has worked so hard and for so many hours on our downward expansion issue," UHV President Tim Hudson said before handing Rice an appreciation award. "This is a process that will redefine the future of this institution."
Rice thanked Hudson for the award and said that working at UHV has been the highlight of her career.
"I really appreciate the opportunity to be a part of this," she said. "I think downward expansion is vitally important for UHV, Victoria and the region."
UHV also recognized the following employees for working five, 10, 15, 20 and 35 years at the university:
Five Years
Melanie Crider
Christy Esse
David Felts
Ramon Garcia
M.C. Griffin Jr.
Miles Harrison
Sandy Hybner
Clarence Karr
Kathryn Kohlhaas
Hsin-Hui Lin
Rachel Martinez
Krystal Phillips
Sunitha Subbaiah
Ziad Swaidan
Iris Tam
Holly Verhasselt
10 Years
Linda Hayes
Carol Klages
Denise Prescott
Minnie Urbano
Marci Wallace
Andria Young
15 Years
Debbie Jozwiak
Mary Natividad
Mary Ann Rivera
Lori Williamson
Sandra Wood
20 Years
Joe Dahlstrom
Ruby Dean
35 Years
Greg Fanelli
The University of Houston-Victoria, located in the heart of the Coastal Bend region since 1973 in Victoria, Texas, offers courses leading to more than 80 academic programs in the schools of Arts & Sciences; Business Administration; and Education, Health Professions & Human Development. UHV provides face-to-face classes at its Victoria campus, as well as an instructional site in Katy, Texas, and online classes that students can take from anywhere. UHV supports the American Association of State Colleges and Universities Opportunities for All initiative to increase awareness about state colleges and universities and the important role they have in providing a high-quality and accessible education to an increasingly diverse student population, as well as contributing to regional and state economic development.