Close
Former dean accepts interim position again in UHV School of Education & Human Development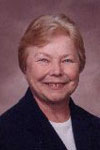 Mary Natividad
University of Houston-Victoria professor Mary Natividad is experiencing déjà vu as the interim dean of the university's School of Education & Human Development.
When she stepped into the position on Feb. 1, it was the second time during her 16-year tenure at UHV to be named SoEHD interim dean. After joining the school's counseling faculty in 1993, she served as interim dean of the school for a short time before becoming dean from 2002 to 2005. She then went back to teaching, where she has remained since because it's the position she enjoys the most.
"I was very happy being interim dean the first time around, and I'm happy to do it again," she said. "I work with wonderful people."
Natividad is interim dean while a newly appointed search and screening committee works to find a replacement for former Dean John Stansell. Stansell, who became dean of the school in 2005, resigned effective Jan. 30 for personal and family reasons, but he will continue with his teaching and research work at UHV, said Suzanne LaBrecque, provost and vice president for academic affairs.
Under Stansell, UHV received a nearly $500,000 grant to fund the school's Access to Success program designed to alleviate the state teacher shortage, a graduate certificate program in Adult and Higher Education was started and the first students with Master Mathematics Teacher certifications graduated.
"I know Dr. Natividad will keep the School of Education & Human Development running smoothly while the committee conducts a national search to find a new, highly qualified dean," LaBrecque said.
Prior to coming to UHV, Natividad spent three years as a mental health counselor at the U.S. Embassy in El Salvador and eight years as an assistant and associate professor of counseling at Northern Illinois University in DeKalb, Ill. Her bachelor's degree is from the University of Wisconsin-Madison, and she has both her master's degree and doctorate from Northern Illinois University.
Much of Natividad's time as interim dean is being spent making changes to the school's undergraduate program to meet new state requirements and getting ready for a March 11 and 12 visit from the Texas Education Association, she said. The TEA reviews the school's initial certification program about every five years.
The school also is in the process of working to get its counseling program nationally accredited by the Council for Accreditation of Counseling and Related Education Programs headquartered in Alexandria, Va. The school has submitted some paperwork, and the next step would be an on-site visit by the council, Natividad said.
"There's a lot going on, and we're really working hard," she said.
The search and screening committee was formed to include various sectors of the university in the dean selection process, LaBrecque said. The community also will be invited to open forums and receptions with the finalists.
The committee is expected to start advertising the position nationally beginning in March and identify finalists to interview on campus in late April and early May.The goal is to have the new dean on campus by Sept. 1.
Jeffrey Di Leo, dean of the School of Arts & Sciences, will serve as chairman of the committee. Other committee members are:
Andria Young, associate professor of special education

Don Fry, associate professor of educational administration

Mary Mayorga, assistant professor of counseling

Diane Prince, professor of curriculum and instruction

Cindy Schnebly, associate professor of English

Amy Mundy, director of annual giving and a UHV alumna

Lawrence Nelson, SoEHD online support technicianLindsey Jolly, SoEHD undergraduate
The University of Houston-Victoria, located in the heart of the Coastal Bend region since 1973 in Victoria, Texas, offers courses leading to more than 80 academic programs in the schools of Arts & Sciences; Business Administration; and Education, Health Professions & Human Development. UHV provides face-to-face classes at its Victoria campus, as well as an instructional site in Katy, Texas, and online classes that students can take from anywhere. UHV supports the American Association of State Colleges and Universities Opportunities for All initiative to increase awareness about state colleges and universities and the important role they have in providing a high-quality and accessible education to an increasingly diverse student population, as well as contributing to regional and state economic development.