Close
UHV employee uses personal experience to encourage others to return to school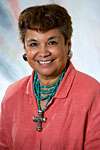 Josie Rivera
Josie Rivera wanted to be a teacher from the time she was a little girl, but she thought she'd never realize her dream after family obligations caused her to drop out of Bloomington High School as a freshman.
She got married at age 16, eventually completed her General Equivalency Diploma and settled in to a teacher's aide position in Bloomington. Teachers at the school kept after her to go on to college, so at age 31, she slowly started working toward her dream by taking night classes at The Victoria College. In 1984, she became a teacher and later obtained enough education to become superintendent of the same school district where she had dropped out.
"Education is just so important to me," said Rivera, who works part time in the University of Houston-Victoria Letting Education Achieve Dreams (LEAD) office. "I'm glad I went back to school, and now I'm encouraging others."
As the LEAD senior program development coordinator, Rivera oversees outreach programs to encourage minorities and other students traditionally underrepresented at the college level to receive a degree. One of her focuses right now is to meet with teacher's aides in Victoria and the surrounding area to get them to go back to school. This fits with the goals of Access to Success, a UHV scholarship program that provides financial and academic support to instructional aides and long-term substitutes who want to become teachers.
Rivera's personal story resonates with teacher's aides, many of whom would like to become teachers but don't have the necessary education.
"I always tell them that they're never too old to go back to school," Rivera said. "You're going to get old no matter what, so get old with a degree."
Some of the teacher's aides Rivera talks to are apprehensive about going to college because it's something new, and they are afraid they may fail, she said. They also may have work or family obligations that make it difficult to take classes.
Martha Torres, a parent liaison at Smith Elementary School in Victoria, was one of those aides reached by Rivera. She was a bilingual teacher's aide at the school when Rivera talked to her.
"Dr. Rivera told me, 'Martha, you can do it. Go back to school,'" said Torres, adding that Rivera was so inspirational that she registered for classes at The Victoria College the same day.
Torres began classes during the summer but can only take one at a time since she works full time. Her goal is to graduate from VC, get her bachelor's degree from UHV and become a teacher.
"I have three children, and if I want to get the point across to them that it's important to go to college, I have to set a good example," the 36-year-old Victoria resident said.
Rivera, now 61, knows firsthand the sacrifice that Torres is making when it comes to going back to school. It took her 27 years between the time she received her GED to the time she received her doctorate in educational leadership from Texas A&M University-Kingsville.
Between that time, Rivera completed her associate degree at VC, and a bachelor's degree and two Master of Education degrees at UHV.
Rivera is glad that she went back to college because education made a huge difference in her life, she said. She went from being a high school dropout to a VISD teacher, assistant principal and principal. In 2000, she became superintendent of Bloomington Independent School District. She was the first female and the first Hispanic BISD superintendent.
"My favorite part of my job is going out and talking to potential students about what a difference an education can make," she said. "It's my way of giving back to the community."
It's an issue Rivera thinks is important since 47 percent of students who graduated from Victoria Independent School District in the spring of 2007 did not go to college in the fall, according to data from the Texas Higher Education Coordinating Board.
"Education is critical to success," Rivera said.
Rivera was honored for her work in education in 1999 when she was named the National Distinguished Principal of Texas by the Texas Elementary Principals and Supervisors Association. She currently is a member of the VC Board of Trustees and the VC Foundation Board of Directors.
Although Rivera considers herself retired since 2001, she has worked part time at UHV since 2003 in a variety of jobs at LEAD and in special projects. She provides a welcome addition to both LEAD and the university, said Denee Thomas, LEAD manager.
"Dr. Rivera brings an incredibly valuable set of resources to LEAD:  her passion and dedication to educational achievement, her love of people, her personal history and her community contacts," Thomas said.
As far as her future plans, Rivera said she may eventually teach part time at UHV.But for now, she just wants to keep educating students and community members about the importance of a higher education.
"If I can do it, they can do it," she said. "And we're here to help make it easier."
The University of Houston-Victoria, located in the heart of the Coastal Bend region since 1973 in Victoria, Texas, offers courses leading to more than 80 academic programs in the schools of Arts & Sciences; Business Administration; and Education, Health Professions & Human Development. UHV provides face-to-face classes at its Victoria campus, as well as an instructional site in Katy, Texas, and online classes that students can take from anywhere. UHV supports the American Association of State Colleges and Universities Opportunities for All initiative to increase awareness about state colleges and universities and the important role they have in providing a high-quality and accessible education to an increasingly diverse student population, as well as contributing to regional and state economic development.