Close
Master writers can teach much to aspiring authors, guest lecturer says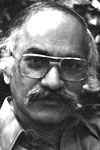 Zulfikar Ghose
The best place to learn how to write is by reading the reflections of master writers, said Zulfikar Ghose, an Austin-based poet, novelist and critic.
Ghose will be the next guest lecturer in the University of Houston-Victoria/American Book Review Spring Reading Series. He will speak about the role of writers as teachers at noon April 2 in the Alcorn Auditorium of UHV University West, 3007 N. Ben Wilson St. The event is free to the public, and light refreshments will be served.
Ghose also will read selections of his poetry and meet with the public at a free reception at 3 p.m. in the Victoria Public Library, 302 N. Main St.
He offered the following advice for aspiring authors: "Read as widely as you possibly can. Learn what is there before you."
Many of the great writers wrote about the art of writing, their preferences and extensive opinions on matters of form and style, he said.
"The closer we come to our own time, the more we see writers writing about the idea of what it is they are doing," Ghose said.
Author Virginia Wolf is an excellent example, he said.
"After a day's work, she would sit down and write in her diary," Ghose said. "Some of the remarks in her diaries are about what she had been doing and what was compelling her."
Many other great writers, such as William Faulkner, T.S. Elliot and Anton Chekhov, provided similar written insight into how and why they wrote, Ghose said. He plans to share some of these letters and critical essays during his noon presentation at UHV.
By reading the letters, critical essays and reflections of such great writers, aspiring authors can learn how to better ply the craft, he said.
This is the best way to teach writing and the method Ghose used for 35 years as a professor at the University of Texas at Austin, where he is presently a professor emeritus.
"What I am against is the use of textbooks often written by people who are not themselves writers of any great quality," he said. "You can't reduce art to a formula. As soon as you do that, you make nothing but mass-produced junk. The formless repeats itself."
Ghose is a novelist, poet, short-story writer, autobiographer, journalist, educationalist, essayist and literary critic. He was born in Pakistan in 1935, grew up in British India and emigrated to England in 1952. He now lives in Austin. He has published 12 novels, including his most recent, "The Triple Mirror of the Self." He also is the author of two story collections, an autobiography, six volumes of poetry and four books of literary criticism.
"We have a rare opportunity to hear a master writer teach us about how we can learn from other master writers," said Jeffrey Di Leo, editor and publisher of ABR and dean of the UHV School of Arts & Sciences. "We are very proud to be able to provide this unique experience to the community."
ABR is a nonprofit, internationally distributed literary journal that champions works by small presses in six editions published each year. Founded in 1977, the journal moved to UHV in 2006. It has a circulation of about 8,000.
While in Victoria, reading series authors attend roundtable discussions with UHV faculty and students, make classroom visits to area schools, give lectures open to the community, and go to receptions hosted by Friends of ABR patrons. Past speakers have included Pulitzer Prize-winning historian David M. Oshinsky, author and Iranian refugee Farnoosh Moshiri, Mexican American author Dagoberto Gilb and American Book Award recipient Graciela Limon.
The Spring Reading Series will conclude with an April 30 visit by Ana Castillo. Castillo is a celebrated poet, novelist, short story writer and essayist. Renowned Chicano author Rudolfo Anaya has referred to Castillo as "one of our finest Chicana novelists." Castillo has published numerous books, including "The Mixquiahuala Letters," for which she received the Before Columbia Foundation's American Book Award in 1987. Her most recent work, "The Guardians: A Novel," was published in 2007 and tracks the lives of Mexicans who illegally cross to the U.S. to work.
For more information about the UHV/ABR Reading Series, call ABR Managing Editor Charles Alcorn at 361-570-4100 or go to www.americanbookreview.org
The University of Houston-Victoria, located in the heart of the Coastal Bend region since 1973 in Victoria, Texas, offers courses leading to more than 80 academic programs in the schools of Arts & Sciences; Business Administration; and Education, Health Professions & Human Development. UHV provides face-to-face classes at its Victoria campus, as well as an instructional site in Katy, Texas, and online classes that students can take from anywhere. UHV supports the American Association of State Colleges and Universities Opportunities for All initiative to increase awareness about state colleges and universities and the important role they have in providing a high-quality and accessible education to an increasingly diverse student population, as well as contributing to regional and state economic development.