Close
UHV Student Senate puts emphasis on volunteer work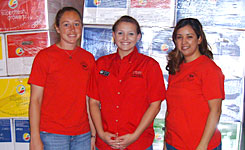 University of Houston-Victoria Student Senate President Kristen Lindley, left, Senator At-Large Whitney Damborsky and Treasurer Melissa Romanowski volunteer at the Food Bank of the Golden Crescent in Victoria as one of the Senate's volunteer projects this school year.
Members of the 2008-2009 University of Houston-Victoria Student Senate want the community to know that they're interested in a lot more than just taking classes. They also think that volunteering in the community is important for student leaders.
"We really feel like we should take the opportunity to help when we can and give back to the community," Student Senate President Kristen Lindley said. "I think by volunteering, we've become a stronger Senate and have learned more about each other."
After the Senate decided last spring to make volunteering a priority, members brought suggestions to the group about ways they could help nonprofit organizations in the community.
The members' volunteer work this school year has helped several organizations that benefit animals, including Pets Are Worth Saving (P.A.W.S.), Adopt-A-Pet and the Dorothy H. O'Connor Pet Adoption Center, Lindley said.
Senate members also walked in both the Hispanic Heritage Month and the Black History Month parades and sponsored the UHV Giving Tree at Christmas. The Giving Tree donation drive benefited Adopt-A-Pet, Crossroads Youth and Family Services, and Mid-Coast Family Services. Senate members agreed to donate items to the Giving Tree rather than giving holiday gifts to each other.
Whitney Damborsky, a senator at large, said between her family and her boyfriend's family, she was able to donate 13 bags of new or slightly used clothing to the Giving Tree.
"I have a family member who used to be a social worker, and I've helped her in the past delivering Christmas gifts to families," Damborsky said. "Volunteering for the Giving Tree really meant a lot to me because I know what differences donations can make in the lives of people who need them."
Most recently, Senate members helped in the office of the Food Bank of the Golden Crescent and coordinated the March 19 Student Organization Day. The community event featured food, games and music provided by different UHV student organizations. Twenty-two UHV students, faculty and staff from the Fort Bend area came to Victoria on a chartered bus to take part in the festivities. Many of those on the bus were Chinese graduate students and professors taking UHV business classes in Sugar Land and Katy this semester.
"We have lots of leaders on the Senate, and Kristen really gets them motivated," said Janet Foerester, who co-advises the Senate with Student Services Manager Minnie Urbano. "They really are a driven group."
Sally Kuecker, executive director of the Dorothy H. O'Connor Pet Adoption Center in Victoria, said she has appreciated the Senate members' volunteer work to benefit the no-kill pet facility. She even brought Charlie, the center's canine mascot, and one of the puppies at the shelter to Student Organization Day to help support the students. While there, she greeted the public and talked to them about volunteer opportunities at the center.
"I really appreciate the students' help," she said. "The public gives to us, and we give back. It's part of being in a community."
Student Senate Treasurer Melissa Romanowski said she expects members of the organization to keep up their level of volunteer work next school year. She will be running for Senate in the annual election later this month.
"I think our volunteer work has really put a positive light on the Senate and has made us better leaders," she said.
The University of Houston-Victoria, located in the heart of the Coastal Bend region since 1973 in Victoria, Texas, offers courses leading to more than 80 academic programs in the schools of Arts & Sciences; Business Administration; and Education, Health Professions & Human Development. UHV provides face-to-face classes at its Victoria campus, as well as an instructional site in Katy, Texas, and online classes that students can take from anywhere. UHV supports the American Association of State Colleges and Universities Opportunities for All initiative to increase awareness about state colleges and universities and the important role they have in providing a high-quality and accessible education to an increasingly diverse student population, as well as contributing to regional and state economic development.