Close
Nursing students help with smoking cessation efforts in Fort Bend County
SUGAR LAND – Two students with the University of Houston-Victoria School of Nursing are making a difference in Fort Bend County with a project to educate physicians about the resources available to help their patients quit smoking.
Kim Hantman and Jancy Babu, who both will graduate from the Registered Nursing to Bachelor of Science in Nursing program in May, are helping the Tobacco Free Fort Bend Coalition plan an April 23 Continuing Medical Education program in Sugar Land. The students are getting credit for the project as part of a UHV nursing leadership and management class.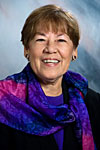 Eugenia Blomstrom
"This is a wonderful opportunity for them to be able to reach out to the community," said Eugenia Blomstrom, the UHV School of Nursing assistant professor who is teaching the class at the University of Houston System at Sugar Land. "We are preparing them so that they can assume more leadership roles in their current jobs."
Hantman, a quality resources nurse at OakBend Medical Center in Richmond, and Babu, a nurse at Triumph Hospital Clear Lake in Webster, got involved with the project at the beginning of the year because Hantman works with one of the Tobacco Free Fort Bend Coalition members.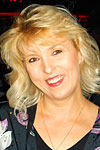 Kim Hantman
The students started the project by developing a survey sent to Fort Bend County physicians to find out what they knew about the tobacco cessation resources available. That way, they would know what information to cover in the program.
Some of the things they learned surprised them. For example, only 21 percent of the physicians gave the American Cancer Society's toll free Quitline (877-YES-QUIT) to patients who were trying to quit smoking.
"We definitely need to educate our physicians so they can help more people," Babu said. "Tobacco is a major killer."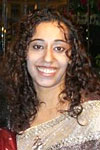 Jancy Babu
The second part of the project was to develop the "Set Your Patients Free: Tobacco Cessation CME" program. It is scheduled from 6:30 to 8:30 p.m. April 23 at the Sugar Land Marriott Town Square, 16090 City Walk, for physicians and allied health professionals. The $20 program will include information about tobacco use in Fort Bend County, different approaches to patient education and tobacco cessation resources.
Robin Hanzelka, the cancer and CME coordinator for the OakBend Medical Center who has been working with Hantman and Babu, said the students have worked hard on the project and will be recognized at the event.
"The students did a great job," she said. "It's been a pleasure."
Hantman said she plans on continuing her work with the Tobacco Free Fort Bend Coalition after she graduates from UHV.
"I'm very excited about being a part of it," she said. "I'm just happy that we'll have a healthier community."
For more information about registering for the program, contact Hanzelka at 281-633-4077 or rhanzelka@obmc.org
The University of Houston-Victoria, located in the heart of the Coastal Bend region since 1973 in Victoria, Texas, offers courses leading to more than 80 academic programs in the schools of Arts & Sciences; Business Administration; and Education, Health Professions & Human Development. UHV provides face-to-face classes at its Victoria campus, as well as an instructional site in Katy, Texas, and online classes that students can take from anywhere. UHV supports the American Association of State Colleges and Universities Opportunities for All initiative to increase awareness about state colleges and universities and the important role they have in providing a high-quality and accessible education to an increasingly diverse student population, as well as contributing to regional and state economic development.