Close
UHV recognizes outstanding faculty
Three University of Houston-Victoria faculty members singled out as outstanding by their students and peers alike recently received awards.
School of Business Administration associate professors Ziad Swaidan and Nagarajan Ramamoorthy, and professor Massoud Metghalchi were honored for excellence in teaching, service or research at Saturday's spring commencement ceremony.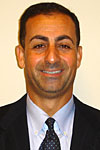 Ziad Swaidan
Swaidan is the recipient of the 2008-2009 Enron Teaching Excellence Award, which is given annually to a professor who provides innovative, high-quality instruction for his students. Swaidan, Ramamoorthy and Metghalchi received a monetary award and plaque.
"To get the teaching award is a great honor," said Swaidan, who teaches marketing in Sugar Land, Katy and online. "The most important objective for me as a faculty member is to deliver high-quality teaching."
UHV students nominated 52 professors for the teaching award, and Swaidan was selected from five finalists who supplied additional materials to a selection committee.
Swaidan also was a finalist for the Enron Teaching Excellence Award the previous year and was the recipient of UHV's 2005-2006 Research and Scholarly Activities Award. He has published more than 20 refereed journal articles during the last five years.
Swaidan joined UHV in 2003 as an assistant professor of marketing and previously taught at Jackson State University in Jackson, Miss.
"At UHV, we strive to give a high-quality education to our students," he said. "I'm very happy and thankful for the support of my students and my colleagues."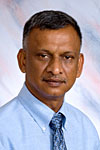 Nagarajan Ramamoorthy
Ramamoorthy, another faculty member from the School of Business Administration, agrees with Swaidan that teaching and research are important for faculty members. After receiving UHV's Research and Scholarly Activities Award last year, Ramamoorthy is the 2008-2009 recipient of the Distinguished Faculty Service Award for his outstanding service to the teaching profession and to UHV, the community and the region.
Ramamoorthy, who teaches in Sugar Land, was hired by UHV in 2002 as an assistant professor of management and was named a finalist for the Enron Teaching Excellence Award in 2006-2007. He served as the 2007-2008 UHV Faculty Senate president and spent five months of this school year lecturing and conducting research in Bulgaria and other countries on a prestigious Fulbright award.
Ramamoorthy is a member of the editorial board of both the Journal of Occupational and Organizational Psychology, published by the British Psychological Society, and the Irish Journal of Management. He also is a reviewer for a number of international journals.
"The way I look at faculty service is that it's an opportunity for personal development," Ramamoorthy said. "It also gives visibility to UHV and the faculty member in his or her area of expertise."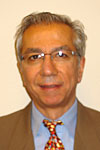 Massoud Metghalchi
Metghalchi, a finance professor who is the recipient of the 2008-2009 Research and Scholarly Activities Award, said he appreciates the support he receives from his colleagues and UHV administrators while doing his job.
"In the School of Business Administration, we have faculty research evaluations that are very flexible and encourage faculty to publish in as many journals as possible," he said.
Metghalchi was hired by UHV in 1991 as an assistant professor of business administration and became chairman of the business school's Accounting, Economics, Finance and Quantitative Management Science Department in 2002.
In 2008, he had four articles published in peer-reviewed journals, including the International Review of Financial Analysis, and one article in a trade journal. So far this year, he has had two articles accepted for publication, and one is in its final revision.
"Any time I get free, I conduct research about the stock market," said Metghalchi, who teaches investments and corporate finance in Sugar Land.
Jifu Wang, interim dean of the UHV School of Business Administration, said he is proud that three of the school's faculty members were recognized this year.
"They are a testament to the strength of the business faculty and their hard work and dedication," Wang said.
The University of Houston-Victoria, located in the heart of the Coastal Bend region since 1973 in Victoria, Texas, offers courses leading to more than 80 academic programs in the schools of Arts & Sciences; Business Administration; and Education, Health Professions & Human Development. UHV provides face-to-face classes at its Victoria campus, as well as an instructional site in Katy, Texas, and online classes that students can take from anywhere. UHV supports the American Association of State Colleges and Universities Opportunities for All initiative to increase awareness about state colleges and universities and the important role they have in providing a high-quality and accessible education to an increasingly diverse student population, as well as contributing to regional and state economic development.