Close
UHV announces new education dean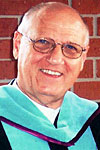 Lawrence F. Rossow
The next dean of the University of Houston-Victoria School of Education & Human Development will be Lawrence F. Rossow, an education leader with more than 40 years of experience.
Rossow is a professor in the College of Education at the University of Oklahoma in Norman, Okla., and director of the Center for Special Education Due Process, based at the university. His experience in the world of education ranges from serving as a high school English teacher to writing scholarly works used in master's-level classes.
Rossow said he looks forward to taking the education school into the future after he starts on Aug. 1.
"UHV is clearly a growth institution, and the School of Education & Human Development will be a major part of that growth," Rossow said. "I can grow along with the institution. It has a bright future."
With that growth, Rossow said he hopes to see an increase in the amount of research being conducted at the school.
"I think we can encourage the faculty and provide resources to get them into a research mode," he said. Published papers that result from such research will help grow the renown of the school and UHV as a whole.
Rossow will replace John Stansell, who resigned Jan. 30 for personal and family reasons and is continuing his teaching and research work at UHV.
"Dr. Rossow is an accomplished scholar, professor and administrator who will bring unique expertise to enrich both the UHV School of Education & Human Development and the university itself," said Suzanne LaBrecque, provost and vice president for academic affairs. "I am delighted he accepted our offer and look forward to working with him."
She also spoke well of the work done by interim dean Mary Natividad.
"I'd like to thank Dr. Natividad, who served as interim dean for most of the spring semester and helped the faculty accomplish many projects," she said. "Dr. Natividad's enthusiasm and positive attitude added so much to every meeting."
Natividad will return to her previous teaching duties.
Rossow has served in a number of jobs in education including working as an English teacher, district administrator, principal, superintendent, chairman of two university education departments and director of an institute.
He has published 12 books and more than 75 articles in the education field and has developed several master's- and doctoral-level degree programs in education, including two designed around the needs of working educators.
The education dean has received a great degree of education himself.
He earned his bachelor's degree in philosophy from DePaul University in Chicago in 1969, his master's in school administration and supervision from Loyola University in Chicago in 1971, his doctorate in education administration and law from Loyola in 1983, and his bachelor's in theology from Newman University in 2000. He has taught classes in most of these subjects.  
Outside the world of education, he is an ordained minister in the Roman Catholic Church, a retired army artillery captain, a licensed pilot, a certified Scuba diver and a sailboat master.  
When he came for his job interview in May, Rossow met with several educational leaders in the community.
"After visiting with Dr. Rossow, I am very impressed with his expertise and wealth of experience in education," said Bob Moore, superintendent of the Victoria Independent School District. "I believe he will be very forthcoming and sensitive to the needs of Victoria and the greater community."
The incoming dean also drew praise from UHV's top leader.
"Dr. Rossow is a fine scholar and educator who brings with him many qualities that make him a wonderful addition to the UHV family," UHV President Tim Hudson said. "A great administrator at the head of the school is a boon for all school children in the regions we serve."
Rossow's experience in accreditation will be an extra benefit as the education school undertakes the rigorous accreditation process for the national Teacher Education Accrediting Council and the Council for the Accreditation of Counseling and Related Education Programs.
He is married to Nancy D. Rossow, a school psychologist for the Norman Public Schools. They have two daughters. The oldest is a visual marketing director for a fashion design company in Chicago, while the youngest is a junior in the School of Drama at the University of Oklahoma.
The University of Houston-Victoria, located in the heart of the Coastal Bend region since 1973 in Victoria, Texas, offers courses leading to more than 80 academic programs in the schools of Arts & Sciences; Business Administration; and Education, Health Professions & Human Development. UHV provides face-to-face classes at its Victoria campus, as well as an instructional site in Katy, Texas, and online classes that students can take from anywhere. UHV supports the American Association of State Colleges and Universities Opportunities for All initiative to increase awareness about state colleges and universities and the important role they have in providing a high-quality and accessible education to an increasingly diverse student population, as well as contributing to regional and state economic development.