Close
UHV offers degree for healthcare administrators
The University of Houston-Victoria is recruiting students for a new healthcare administration concentration in the Bachelor of Business Administration program.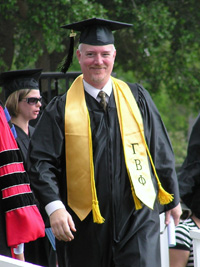 Grady Trew receives his Bachelor of Business Administration with a healthcare administration concentration during the University of Houston-Victoria's spring graduation ceremony. The concentration is new at the university.
"This concentration teaches students to use proven management techniques to improve the quality and cost-effectiveness of patient care at healthcare facilities," said Jane Mims, director of student services for the School of Business Administration.
The concentration was created in response to needs expressed by two groups. Members of the medical community needed administrators trained to deal with the unique business environment in the healthcare industry, and students wanted specific training to prepare them for such careers, Mims said.
Among other skills, the concentration prepares students to plan, develop and effectively execute business strategy in a health and managed care organization and to better understand the economic principles that effect medical care locally and nationally.
"With the rising cost of healthcare becoming a prominent national issue, this program takes on an increased relevance," Mims said. "Good management increases efficiency and quality and reduces costs in any kind of enterprise. Our graduates will be uniquely equipped to be leaders in solving a pressing social problem."
Students can tailor their studies by selecting from courses taught by business and nursing faculty to meet the required 18 credit hours for the concentration, Mims said.
"Business faculty and nursing faculty offer different perspectives on healthcare issues," Mims said. "By structuring the concentration as we have, we've ensured that all students will be exposed to critical content but allowed them to decide how to balance these perspectives based on their career goals."
Students also can elect to complete an internship to prepare to seek state licensure as Nursing Facility Administrators.
In the fall, the program graduated its first two students, who acted as a pilot group for the new concentration.
"It really opened my eyes to how business management works in the nursing paradigm," said Grady Trew, who graduated from the program in the spring after spending 15 years in the telecommunications and computer business.
In most industries, the goal of management is to maximize profit for stakeholders. In the healthcare industry, stakeholders include patients, owners and the community served by the facility.
"You have to generate profit for all of them, and you have to determine what profit means in all of them," he said.
Profit includes providing the best quality of care for patients and providing the best service to the community, he said.
His interaction with working nurses in the UHV School of Nursing really opened his eyes to the unique needs in the healthcare industry, he said.
Trew is now working in an internship in Bastrop and plans to become the manager of a long-term care facility after he earns his state license.
The new program is another example of how UHV and other institutions of higher education play an invaluable role in the health of the communities they serve, said Farhang Niroomand, dean of the UHV School of Business Administration.
"The healthcare industry is a huge part of the economy locally and nationally, and it provides service that we will all use sooner or later," he said. "The graduates from this new program have the potential to affect the lives of almost everyone in the communities where they work and live."
He praised the responsiveness of his staff and faculty once they discovered a need for trained medical administrators in Victoria and Houston.
"With the support from local communities, our faculty and staff quickly put together a quality program to meet this growing need," Niroomand said. "I'd like to especially thank Jane Mims for her hard work in making all of this possible."
The program could lead to further collaborations between the schools of Nursing and Business Administration.
"This program is a great example of how the healthcare and business fields can work together for the betterment of everyone," said Kathryn Tart, founding dean of the UHV School of Nursing.
UHV classes for the healthcare concentration are available face-to-face in Victoria and at the University of Houston System at Sugarland, and online.
For more information about the healthcare administration concentration, contact recruiter Emily Harrison in Victoria at 361-570-4242, or recruiter Angela Green in Houston at 281-275-3027.
The University of Houston-Victoria, located in the heart of the Coastal Bend region since 1973 in Victoria, Texas, offers courses leading to more than 80 academic programs in the schools of Arts & Sciences; Business Administration; and Education, Health Professions & Human Development. UHV provides face-to-face classes at its Victoria campus, as well as an instructional site in Katy, Texas, and online classes that students can take from anywhere. UHV supports the American Association of State Colleges and Universities Opportunities for All initiative to increase awareness about state colleges and universities and the important role they have in providing a high-quality and accessible education to an increasingly diverse student population, as well as contributing to regional and state economic development.