Close
G-Force continues to save the day for students during summer months
Not even the Texas-sized summer heat can stop the G-Force!
The peer mentoring program, part of the Letting Education Achieve Dream, or LEAD office, continues to work throughout the summer to help area students achieve their dreams through higher education.
Instead of operating out of a secret cave, the G-Force is based at the University of Houston-Victoria. The peer mentors work one-on-one with high school and community college students to help them apply for admissions, secure financial aid and successfully complete a degree at institutions of higher learning.
During the summer months, the team and their tactics have to adapt a bit.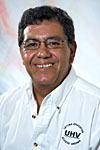 Ovidio Garcia
"There are fewer students in the summer, and we have to be more flexible in how we reach and work with them," veteran G-Force member Elizabeth Martinez said. The intensity of summer classes at area high school and community colleges makes it harder to pull students from class or schedule appointments.
G-Force members often find students during lunch breaks and other openings in the schedule, Martinez said.
Many G-Force members take the summer off, so the team often brings on new members to help out.
"We still have a great variety of experiences and personality types on the G-Force, so we can cater to the individual needs of our clients," said Ovidio Garcia, LEAD community college program coordinator.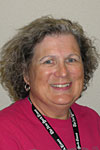 Claudia Acree
Among the summer staff for G-Force is education major Claudia Acree.
Like many college students, Acree decided to take a break from her studies to take care of a few personal things. What makes her case unique is that she took off almost 40 years to get married, raise a family and run a household.
"While some students work better with a mentor who is more of a friend, others need more of a motherly touch," she said. Acree said she seems to find her strongest connections with teenage girls.
The role is nothing new for Acree, who has worked as a substitute teacher for the last 15 years. Her G-Force duties provide her the perfect summer job while school is out of session.
G-Force continues to operate in the summer because the people they help don't stop needing services with the end of the fall or spring semesters. These students include Celeste Garcia of Victoria.
Celeste, who earned her General Equivalency Degree earlier this year, found the help she needed to move her life to a higher level when Martinez approached her at Profit Magnet High School and put her on the path to a degree.
"She helped me enroll, helped me get financial aid, and helped me talk to a counselor about a degree plan," Celeste said. "I probably wouldn't have known where to start without her."
She now plans to earn her degree in art and graphic design. And her future is full of options.
"Education is all about empowering people to achieve their dreams," Martinez said. "And helping others do so is exactly how G-Force saves the day, even in the summer heat of South Texas."
The program is made possible by a grant from the Texas Higher Education Coordinating Board.
For more information about LEAD and its services, contact the program at 361-570-4893 or visit www.uhv.edu/lead.
The University of Houston-Victoria, located in the heart of the Coastal Bend region since 1973 in Victoria, Texas, offers courses leading to more than 80 academic programs in the schools of Arts & Sciences; Business Administration; and Education, Health Professions & Human Development. UHV provides face-to-face classes at its Victoria campus, as well as an instructional site in Katy, Texas, and online classes that students can take from anywhere. UHV supports the American Association of State Colleges and Universities Opportunities for All initiative to increase awareness about state colleges and universities and the important role they have in providing a high-quality and accessible education to an increasingly diverse student population, as well as contributing to regional and state economic development.