Close
Newcomer UHV takes leadership roles in national athletics organizations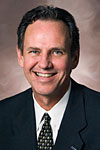 Tim Hudson
After only two seasons of Jaguars college athletics, University of Houston-Victoria staff members already are taking leadership roles in the world of national sports.
"As any good sports fan knows, you can't get involved in athletics partway," UHV President Tim Hudson said. "You either play big, or you go home."
Hudson is one of 32 voting members on the National Association of Intercollegiate Athletics Council of Presidents, the top governing body for the organization. Hudson serves as one of two elected representatives for nonconference-member universities.
In his role, Hudson played a part in changing the postseason framework for the NAIA from a bid system where teams were selected based on subjective criteria to a direct competition system.
"The new system provides a direct path for outstanding teams without conference memberships to make it to national championships," Hudson said. The Jaguars baseball team made a strong showing in its first season with a 29-5 record but didn't get make a postseason appearance. This year, the team made it to the national championship series.
Hudson also is one of 14 appointed members of the NAIA-National Collegiate Athletic Association Presidential Working Group, which is charged with finding and developing collaborative opportunities between the two organizations.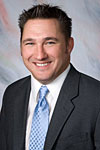 Ashley Walyuchow
In addition, UHV Athletics Director Ashley Walyuchow also holds several positions with national college sports organizations.
Walyuchow serves as vice president for the Association of Independent Institutions, an association of schools without conference memberships.
He also represents the A.I.I. on the NAIA National Administrative Council, an organization of athletic staff members in the NAIA, and on the board of the NAIA National Association of Collegiate Marketing Administrators.
This year, he chaired the A.I.I. Baseball Championship committee, which organized the first-of-its kind-event and brought it to Victoria.
"I volunteered for these positions so I could represent the interests of UHV and other small-but-rising institutions in the world of collegiate athletics," Walyuchow said. "It's a great experience to be able to play an active role in shaping the future of college athletics across the country."
Outside of his leadership positions, Walyuchow also is an active member in the National Association of College Directors of Athletics, which shares best practices and other valuable information in the world of college sports.
"College athletics brings so many benefits to UHV and the communities we serve," Hudson said. "Lifting our share of the heavy burden of leadership is one of the best ways we can give back."
Hudson and Walyuchow's efforts drew praise from a top NAIA official.
"We are pleased to see representatives from the University of Houston-Victoria take on these leadership roles within the Association," said Kevin Dee, NAIA vice president for administration and finance. "It is a testament to the school's strong commitment and active participation at the NAIA and is an example for other institutions."
UHV began fielding Jaguars baseball and softball teams in the spring of 2008. The university has announced plans to add golf and soccer in 2010 when the previously upper-level institution will admit its first freshmen and sophomores.
In its short athletics history, UHV won the first A.I.I. baseball and softball championships, fielded a nationally ranked softball team, and had baseball and softball players win All-American designations, along with other individual athletic and academic honors. The softball team also was ranked a 2008 Scholar Team for maintaining academic excellence, an honor the team is expected to repeat again when the 2009 awards are released.
The University of Houston-Victoria, located in the heart of the Coastal Bend region since 1973 in Victoria, Texas, offers courses leading to more than 80 academic programs in the schools of Arts & Sciences; Business Administration; and Education, Health Professions & Human Development. UHV provides face-to-face classes at its Victoria campus, as well as an instructional site in Katy, Texas, and online classes that students can take from anywhere. UHV supports the American Association of State Colleges and Universities Opportunities for All initiative to increase awareness about state colleges and universities and the important role they have in providing a high-quality and accessible education to an increasingly diverse student population, as well as contributing to regional and state economic development.