Close
UHV plans Xeriscape landscaping project as part of environmental efforts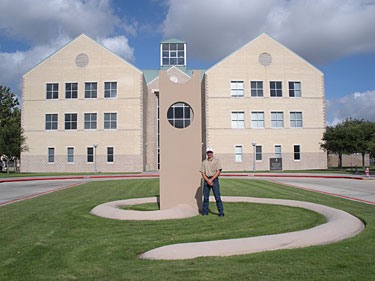 Justin Kutzer, University of Houston-Victoria grounds supervisor, stands in front of the UHV University Center, where the university is planning a Xeriscape landscaping project.
The University of Houston-Victoria is continuing its efforts to help the environment by replacing some of the grass in front of the University Center with landscaping that conserves water and reduces maintenance.
"UHV is committed to being a good steward of the environment, and this new Xeriscape landscaping is just our next step in showing the community that we are serious about reducing our impact on the climate," UHV President Tim Hudson said.
On Aug. 22, 2007, Hudson was the first president of a Texas public university to sign the American College & University Presidents Climate Commitment. This is an effort involving more than 600 universities that addresses global warming and accelerates the research and educational efforts of higher education to equip society to re-stabilize the Earth's climate.
UHV has increased its conservation efforts since then by switching to environmentally friendly custodial supplies, producing compost and mulch for fertilizer, expanding its recycling program and more, said Michael Ruland, UHV director of facilities.
The new Xeriscape, which is landscaping that conserves water and protects the environment, will be in a 48-by-56-foot area around the "Millennium Plaza" outdoor art on the east side of the University Center, 3007 N. Ben Wilson St. The UHV grounds crew will replace the grass that currently surrounds the art with large boulders, mulch, moss rock, small landscaping stones known as cobble, and Texas native flowering shrubs. The shrubs, which will be labeled with their names, will include purple and white sage, pendula and red yucca, dwarf bottle brush, vitex and dwarf yaupon.
The mulch is made at UHV by chipping up tree limbs, said Justin Kutzer, who designed the UHV Xeriscape and is the university's grounds supervisor. The grounds crew also will mix compost top soil made at UHV into the native soil before the shrubs are planted as a way to increase the soil's ability to absorb and store water.
"This project will add visual appeal to the front of the building," Kutzer said. "Once we get the landscaping established, we'll be able to water it less often than the grass that is currently there, depending on weather conditions. Once a month will be our goal."
Hudson suggested the project to UHV Facilities Director Michael Ruland about six months ago as a way to conserve water and provide an attractive entrance that could be part of tours of the university, Ruland said. Freshmen and sophomores will start classes at UHV in the fall of 2010.
Ruland said the grounds crew currently has to spend extra time trimming the grass around the artwork because a mower will not fit between the different pieces. The grass in that area also is watered twice a week.
"Any time you remove grass, you're reducing water usage and labor," he said. "I think this is a smart thing for the university to do."
The project is expected to start this summer and take several days to complete.
The term Xeriscape was coined in 1978 in Denver and has since been embraced by landscape and water industry professionals as a way to conserve water. Texas has more than 20 active, educational Xeriscape projects, according to the Texas Agricultural Extension Service.
The University of Houston-Victoria, located in the heart of the Coastal Bend region since 1973 in Victoria, Texas, offers courses leading to more than 80 academic programs in the schools of Arts & Sciences; Business Administration; and Education, Health Professions & Human Development. UHV provides face-to-face classes at its Victoria campus, as well as an instructional site in Katy, Texas, and online classes that students can take from anywhere. UHV supports the American Association of State Colleges and Universities Opportunities for All initiative to increase awareness about state colleges and universities and the important role they have in providing a high-quality and accessible education to an increasingly diverse student population, as well as contributing to regional and state economic development.