Close
Jaguars pitcher continues to feel impact of hurricane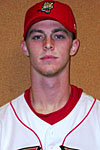 Darrel Stevens
University of Houston-Victoria Jaguars pitcher Darrel Stevens still feels the effects of Hurricane Ike almost 10 months after it hit the Texas Gulf Coast.
Stevens had recently transferred to UHV from McNeese State University in Lake Charles, La., when Hurricane Ike made landfall east of Galveston on Sept. 13.
He had evacuated from Victoria with a friend and had gone to nearby Cuero. But then Ike turned northeast and plowed through Stevens' hometown of Bridge City.
"I have friends in Bridge City who still live in Federal Emergency Management Agency trailers," Stevens said. "There's something like 2,000 homes in Bridge City, and only 13 of them didn't have water in them. Everyone's still living in a trailer."
Even though he had only just arrived at UHV and still was learning about the university and his new baseball team when Hurricane Ike hit, Stevens started making the four-hour drive home every opportunity he got to help his family recover.
"Head coach Terry Puhl told me family comes first, so every weekend when I got off baseball, I went home," Stevens said. "Me and my family – my mom and dad and six aunts and uncles – all live in the same area, so we'd go house to house. One day, it might be pulling up the carpet in one house, the next day, it was taking all the furniture out of another house."
Stevens returned home on weekends while juggling classes, baseball, workouts, practice and a job. He maintained his grades while helping the Jaguars win the 2009 Association of Independent Institutions Baseball Championship.
Stevens said Hurricane Ike continues to impact his family. His parents have decided not to return to Bridge City. They're looking for a home in Beaumont.
"Driving through the neighborhood you grew up in as a kid and seeing all your neighbors' things piled up in their driveways, it's not home anymore," he said.
Stevens was surprised by the damage caused by Ike because Hurricane Rita had hit his freshman year of college but hadn't caused many problems in his hometown.
"When Rita went through and I went home to Bridge City, there was some structural damage, some roofs blown off, but nothing you couldn't get through."
The devastation from Ike was much more severe. "My house had 4 ½ feet of water in it," Stevens said. "I never expected it when I was sitting in Cuero because Hurricane Rita came through and blew down trees, but you went back into your house the next day. In Bridge City, people were using axes to cut their way out of their roofs because the water was so high."
Stevens is a senior majoring in business marketing. When he graduates, he would like to work in sales for a baseball organization, but he said the game may take him in another direction.
"I would love to do something with a major league baseball team because my degree is in marketing," Stevens said. "But I can't get away from wanting to coach baseball. I may not be lucky enough to step on the field and win a championship ring, but I'm going to coach other people so they can."
The UHV Outstanding Student is an online feature highlighting the exceptional students who attend the University of Houston-Victoria. To nominate a student, contact UHV Communications Manager Paula Cobler  or call 361-570-4350.
The University of Houston-Victoria, located in the heart of the Coastal Bend region since 1973 in Victoria, Texas, offers courses leading to more than 80 academic programs in the schools of Arts & Sciences; Business Administration; and Education, Health Professions & Human Development. UHV provides face-to-face classes at its Victoria campus, as well as an instructional site in Katy, Texas, and online classes that students can take from anywhere. UHV supports the American Association of State Colleges and Universities Opportunities for All initiative to increase awareness about state colleges and universities and the important role they have in providing a high-quality and accessible education to an increasingly diverse student population, as well as contributing to regional and state economic development.