Close
Article by UHV dean provides policy guidance to country's educators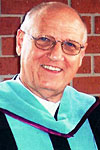 Lawrence Rossow
High schools across the nation received advice about how to comply with recent U.S. Supreme Court rulings from an article co-authored by the incoming dean of the University of Houston-Victoria School of Education & Human Development.
In "The U.S. Supreme Court Speaks on Voluntary School Integration Plans," published in the spring edition of the National Association of Secondary Schools Principals Bulletin, Lawrence Rossow provides policy guidance based on recent cases involving the use of voluntary school desegregation policies in the Louisville, Ky., and Seattle school districts.
Both districts had programs in place that reassigned students to certain schools to make sure the racial makeup of each campus didn't subject the district to a federal lawsuit and potential desegregation order.
"You can't use race at all as a specific factor in determining school assignments for individual children, the court found," Rossow said. 
Rossow's article details the different aspects of the case and recommends certain programs districts can implement to keep schools from becoming racially segregated like some neighborhoods while still being in compliance with federal law.
One suggestion includes the use of magnet schools, where different high schools attract students from around a district by specializing in subjects like fine arts, math, science or even healthcare. Another suggestion is to use scholarships to allow students to freely transfer to certain schools.
The Bulletin is the official peer-reviewed publication of the National Association of Secondary Schools Principals. The Virginia-based organization is the national voice for middle and high school principals, assistant principals and aspiring school leaders, according to the organization's Web site.
The article was co-authored by Kathrine J. Gutierrez, Rossow's former colleague at the University of Oklahoma.
Rossow will take over as dean of the UHV school on Aug. 3.
The University of Houston-Victoria, located in the heart of the Coastal Bend region since 1973 in Victoria, Texas, offers courses leading to more than 80 academic programs in the schools of Arts & Sciences; Business Administration; and Education, Health Professions & Human Development. UHV provides face-to-face classes at its Victoria campus, as well as an instructional site in Katy, Texas, and online classes that students can take from anywhere. UHV supports the American Association of State Colleges and Universities Opportunities for All initiative to increase awareness about state colleges and universities and the important role they have in providing a high-quality and accessible education to an increasingly diverse student population, as well as contributing to regional and state economic development.