Close
UHV signs agreement to raise quality of nursing care in Vietnam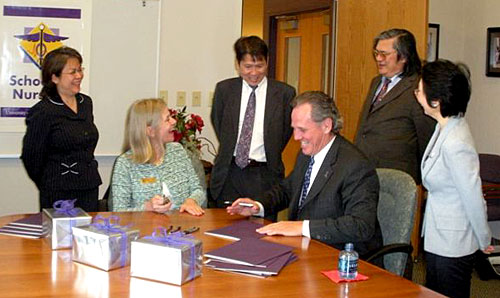 Kathryn Tart, founding dean of the University of Houston-Victoria School of Nursing, and UHV President Tim Hudson, both seated, get ready to sign a memorandum of understanding between UHV and the University of Economics and Finance in Ho Chi Minh City. Also pictured are Vi Ho, far left, and Thuba To, far right, who previously were Tart's nursing students, and Hein Van Tran, center, director of Vietnam programs for the University of Houston System. Dominick Ho, second from right, is Vi Ho's husband
The University of Houston-Victoria is now working with a university in Vietnam to help raise the level of nursing care in that country.
Administrators from the University of Economics and Finance in Ho Chi Minh City signed a memorandum of understanding earlier this month to help prepare their students for admission to UHV's Second Degree Bachelor of Science in Nursing program.
"Our goal is to educate these students here and have them return to Vietnam to provide better healthcare and make a difference in their country," said Kathryn Tart, founding dean of the UHV School of Nursing.
The memorandum of understanding will give UEF students a streamlined pathway for applying to the Second Degree BSN program offered by UHV at the University of Houston System at Sugar Land and the UHS System at Cinco Ranch, she said. UHV and UEF administrators have agreed to work together so that students are prepared to apply. The UEF students will have to meet the same requirements as other applicants and will be placed into the same application pool.
The Second Degree BSN allows students with a bachelor's or master's degree in another field to earn a BSN in as little as a year. The admission deadline for the next group of students to start the program is Nov. 1. Classes begin in Sugar Land and Katy in January.
Tart and UHV President Tim Hudson signed the memorandum of understanding on May 6, which was also National Nurses Day, but UEF administrators did not sign it until July 10 when Tart took a weeklong trip to the country.
While in Vietnam, Tart saw firsthand how UHV could have an impact on nursing care there. Each nurse cared for 10 to 15 people at once, and the nurses mixed intravenous medications for their patients.
"In the U.S., nurses care for four to six patients at a time, and they don't mix IV medications anymore," Tart said. "The mixing is done at the pharmacy level in order to decrease errors and have better patient outcomes."
Students in Vietnam also are interested in nursing as a career because it pays better than many jobs in the country.
The average annual income in Vietnam is $2,000, but nurses make about $4,800, Tart said.
"It can be an economic advantage for them to come to the United States, get their BSN and be eligible to take the National Council Licensure Examination for Registered Nurses," she said.
Hein Van Tran, director of Vietnam programs for the University of Houston System, agreed the memorandum of understanding will help nursing care in Vietnam.
"Vietnamese American-trained nurses will be exposed to the latest medical technologies and new patient-care approaches," he said. "They will bring back to Vietnam a fresh approach to patient care in which nurses are more generalists with a main focus on using all available means to provide quality care."
Hudson said UHV is committed to international education because it benefits all the students at the universities involved.
"Students from UHV and UEF will be able to learn from each other and expand their understanding of this global society in which we live," he said.
The University of Houston-Victoria, located in the heart of the Coastal Bend region since 1973 in Victoria, Texas, offers courses leading to more than 80 academic programs in the schools of Arts & Sciences; Business Administration; and Education, Health Professions & Human Development. UHV provides face-to-face classes at its Victoria campus, as well as an instructional site in Katy, Texas, and online classes that students can take from anywhere. UHV supports the American Association of State Colleges and Universities Opportunities for All initiative to increase awareness about state colleges and universities and the important role they have in providing a high-quality and accessible education to an increasingly diverse student population, as well as contributing to regional and state economic development.