Close
Winter Theory Institute at UHV to examine effects of violence, terror on education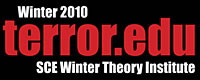 Winter Theory Institute
A single gunman kills 32 people before committing suicide on the campus of Virginia Tech in the deadliest shooting in U.S. History. More than two years later and halfway around the world, students clash with militia at Tehran University during protests of the outcome of the Iranian presidential election.
History shows that violence and terror can force their way into academia at any time. They are issues that keep resurfacing in education. The Society for Critical Exchange, a scholarly organization devoted to theory that is based at the University of Houston-Victoria, will explore the affects of these issues on education during its Feb. 11-14 Winter Theory Institute: "terror.edu – Terrorism and Education in America."
"We want to take an interdisciplinary look at what academic institutions are doing about terror and how they are being affected," said Uppinder Mehan, SCE associate director.
The conference will take place at UHV in collaboration with the UHV School of Arts & Sciences.
Twelve scholars representing universities across the U.S. have agreed to make presentations about their research on terror. Then 12 scholars from area universities will respond by debating and discussing the presentations.
"The idea is to be able to publish a book at the end of this with 12 solid essays and 12 responses to those essays," Mehan said.
Presenters attending the conference include Florida State University faculty member Robin Goodman, author of the 2009 book "Policing Narratives and the State of Terror," and Kent State's Masood Raja, author of the forthcoming book "Constructing Pakistan: Foundational Texts and the Rise of Muslim National Identity 1857-1947."
James Castagnera of Rider University in Lawrenceville, N.J., will talk about his recent book, "Al-Qaeda Goes to College: Impact of the War on Terror on American Higher Education." William Spanos, a distinguished professor in the English department at Binghamton University in Binghamton, N.Y., will discuss American exceptionalism.
UHV faculty members Horace "Bud" Fairlamb, who also is a SCE associate director, will discuss religion and terror, while Keith Akins will talk about the complications of discussing Islamic fundamentalism vs. Christian fundamentalism.
Details of the conference are being worked out, but some portions are expected to be open to the public, Mehan said.
"The Winter Theory Institute will give us a chance to highlight the critical thinking that goes on at UHV and will allow attendees to explore their own opinions about terrorism and education with their colleagues," said Jeffrey Di Leo, dean of the UHV School of Arts & Sciences and SCE director.
SCE moved to UHV in 2008 from Case Western Reserve University in Cleveland. The organization works to create theoretical discussions about specific topics by scholars in literature, culture, law, philosophy and other disciplines. They examine a single concept from their own area of expertise through papers and discussions.
For more information about the conference, go to societyforcriticalexchange.org or contact Mehan at 361-570-4178 or sce@uhv.edu
The University of Houston-Victoria, located in the heart of the Coastal Bend region since 1973 in Victoria, Texas, offers courses leading to more than 80 academic programs in the schools of Arts & Sciences; Business Administration; and Education, Health Professions & Human Development. UHV provides face-to-face classes at its Victoria campus, as well as an instructional site in Katy, Texas, and online classes that students can take from anywhere. UHV supports the American Association of State Colleges and Universities Opportunities for All initiative to increase awareness about state colleges and universities and the important role they have in providing a high-quality and accessible education to an increasingly diverse student population, as well as contributing to regional and state economic development.