Close
Growing program provides extra incentive for area school district employees interested in teaching math, science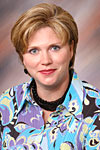 Carol Klages
Area school district instructional aides and long-term substitutes who want to become teachers are eagerly signing up for the University of Houston-Victoria's Access to Success program, but the program's coordinator still is trying to recruit students who want to teach math or science.
"These are high-needs areas in Texas because there aren't enough math and science teachers," said Carol Klages, Access to Success faculty coordinator and an associate professor of education. "Access to Success provides an additional incentive to students who become certified to teach in math or science, and some school districts even pay these teachers more and give them signing bonuses."
UHV received a three-year grant totaling $492,672 from the Greater Texas Foundation to fund Access to Success beginning in the fall of 2008. The program provides scholarships, tuition and books to paraprofessionals and long-term substitutes who want to become teachers. The grant also funds research expenses to study the effectiveness of the program and provides an additional incentive of $3,500 to those who become math or science teachers.
The purpose of the program is to alleviate the state teacher shortage and to encourage more teachers to go into math or science, Klages said. Research shows that new teachers stay in the classroom an average of five to seven years before they burn out and move on to a new career.
"The idea is if you've been in the schools before, you're more likely to stay in the classroom as a teacher instead of changing careers," she said. "These people who have been working in the schools know what the classroom is like and what to expect."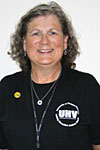 Claudia Acree
UHV Access to Success student Claudia Acree said she can't wait to teach fourth grade or be a sixth-grade social studies teacher after being a substitute teacher in the Victoria school district for the last 15 years. She expects to graduate in May.
"Access to Success has been really helpful for me," she said. "The extra money I've received was greatly needed for me to come back to school."
UHV's Access to Success program started in 1994 with funding from the Houston Endowment. But the grant ended in 2006-2007, causing student financial support to dwindle and fewer teacher's aides and substitutes to enroll in the program.
Under the new grant, 31 students graduated last school year, Klages said. Forty-one new students have enrolled in the program so far for the fall, in addition to the 38 students already in the program.
Data about the program's graduates still is being collected, but Klages said she was pleased that 100 percent of the Access to Success graduates who took the Texas Examination for Educator Standards in June passed it. Students must pass this exam to be certified to teach in Texas.
Now Klages would like to focus on meeting the program's goal of about 50 percent of the program's graduates being certified to teach in areas of critical need.
"A lot of people have math and science phobias, so they don't want to teach those areas," she said. "But we are in desperate need of good math and science teachers."
Those interested in Access to Success need to apply to the program and demonstrate a financial need. They must complete their classes through UHV in Victoria or Fort Bend County. For more information, go to www.uhv.edu/edu/Access/default.asp or contact Klages at klagesc@uhv.edu.
The University of Houston-Victoria, located in the heart of the Coastal Bend region since 1973 in Victoria, Texas, offers courses leading to more than 80 academic programs in the schools of Arts & Sciences; Business Administration; and Education, Health Professions & Human Development. UHV provides face-to-face classes at its Victoria campus, as well as an instructional site in Katy, Texas, and online classes that students can take from anywhere. UHV supports the American Association of State Colleges and Universities Opportunities for All initiative to increase awareness about state colleges and universities and the important role they have in providing a high-quality and accessible education to an increasingly diverse student population, as well as contributing to regional and state economic development.