Close
UHV launches first publishing master's degree in the southern U.S. this fall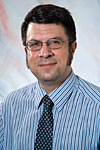 Jeffrey Di Leo
Students can learn about the inner workings of the publishing industry this fall, and they won't have to go out of state to do so.
The University of Houston-Victoria received approval from the Texas Higher Education Coordinating Board earlier this month to offer the first master's degree in publishing in the South.
"This is a unique academic program that is built around UHV's distinctive strengths in humanities publishing," said Jeffrey Di Leo, dean of the School of Arts & Sciences. "There is a void in Texas and surrounding states as far as master's degrees in publishing, and we are pleased to be able to offer this graduate program to students now."
The degree will focus on the history, development and practice of publishing in the U.S. Students will complete 36 semester credit hours consisting of 30 hours of coursework and six hours of internships in order to give them the real-world experience they need to get hired in the competitive publishing industry, Di Leo said. Nine hours of each student's coursework will be in a concentration they select in communication, English, history, interdisciplinary studies or nonprofit leadership.
The master's in publishing will complement UHV's existing literary publications and organizations. Students will have internship opportunities at the American Book Review, an internationally distributed literary journal; Fiction Collective Two, an alternative fiction press; the Society for Critical Exchange, a scholarly organization devoted to theory; symploke, a comparative literature and theory journal; and Cuneiform Press, a fine arts press moving to UHV this fall.
Students and representatives in the publishing industry already have expressed excitement about the new degree at UHV.
"I am a strong proponent of professionalizing the field of publishing, which has been and largely remains an apprenticeship industry," said Suzanne Guiod, editorial director of the University of Rochester Press in Rochester, N.Y. "More professional training programs, such as the one UHV is offering, will go a long ways toward that end."
Lance Olsen, chairman of Fiction Collective Two and an associate editor of the American Book Review, said programs like UHV's master's in publishing are important.
"It's essential that publishing programs like UHV's flourish in order to provide professionals ready to engage productively and imaginatively in the publishing industry," said Olsen, who also is a professor at the University of Utah in Salt Lake City.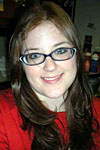 Katie Moody
Victoria resident Katie Moody, a UHV alumna who will enter the master's program in the fall, said she is thrilled she can stay close to her family and get the degree she wants. She got her first taste of the publishing industry in the spring and summer when she was an intern at the American Book Review and got to help with copy editing, fact checking, publicity for the ABR Reading Series and other tasks.
"I've learned that a job in the publishing field has a lot to it," Moody said. "I'm just really excited for this new program. I can't wait to get started and see how it turns out."
For more information about the new master's degree in publishing, contact Tracey Fox, senior recruitment coordinator for the School of Arts & Sciences, at 361-570-4233 or foxt@uhv.edu. Scholarships are available.
The University of Houston-Victoria, located in the heart of the Coastal Bend region since 1973 in Victoria, Texas, offers courses leading to more than 80 academic programs in the schools of Arts & Sciences; Business Administration; and Education, Health Professions & Human Development. UHV provides face-to-face classes at its Victoria campus, as well as an instructional site in Katy, Texas, and online classes that students can take from anywhere. UHV supports the American Association of State Colleges and Universities Opportunities for All initiative to increase awareness about state colleges and universities and the important role they have in providing a high-quality and accessible education to an increasingly diverse student population, as well as contributing to regional and state economic development.