Close
New leader takes helm of UHV Faculty Senate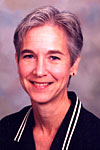 Cindy Schnebly
Cindy Schnebly, a University of Houston-Victoria associate professor of English, is the new president of the UHV Faculty Senate, an elected group that represents faculty members at the university.
"I think the role of the Faculty Senate is to listen to the voices of the faculty members and follow through on their ideas and concerns," said Schnebly, who became president on Saturday.
Schnebly brings a lot of experience to the job. She served as a senator in the 2005-2006 academic year and the Faculty Council chair and vice chair from 1996 to 1998. The Faculty Council is a larger faculty organization that meets only twice a year compared with the smaller Senate that meets monthly.
Last year, the Senate played a key role in gaining permission for UHV to add freshmen and sophomores, she said. This year, the Senate will continue that work by reviewing and approving the core curriculum for the new students arriving in the fall of 2010. The Senate approves the curriculum for all new programs. The addition of freshmen and sophomore classes is pending approval by the Southern Association of Colleges and Schools, which currently accredits UHV and most other major universities in Texas.
Outgoing President Dan Jaeckle will continue to serve on the executive committee as past president. Next year, newly elected Vice Chair Jane Fry will ascend to the presidency and Schnebly will take on the role of past president. The system preserves continuity over of time, Schnebly explained.
Other members of the Senate are as follows:
Executive Committee:
Jianjun Du – Secretary
Denise Neill – School of Nursing
Senators:
Vivian Nowazek – School of Nursing
Bud Fairlamb – School of Arts & Sciences
Keith Akins – School of Arts & Sciences
Don Fry – School of Education & Human Development
Mary Mayorga – School of Education & Human Development
Ron Sardessai – School of Business Administration
Xavier Garza-Gomez – School of Business Administration
The Faculty Senate will expand this fall when each school will elect a third senator to represent the increasing number of faculty at the growing university.
"We couldn't ask for a better Faculty Senate at this historic time at UHV," said Suzanne LaBrecque, provost and vice president for academic affairs. "I'm looking forward to working with them as we move UHV forward."
The University of Houston-Victoria, located in the heart of the Coastal Bend region since 1973 in Victoria, Texas, offers courses leading to more than 80 academic programs in the schools of Arts & Sciences; Business Administration; and Education, Health Professions & Human Development. UHV provides face-to-face classes at its Victoria campus, as well as an instructional site in Katy, Texas, and online classes that students can take from anywhere. UHV supports the American Association of State Colleges and Universities Opportunities for All initiative to increase awareness about state colleges and universities and the important role they have in providing a high-quality and accessible education to an increasingly diverse student population, as well as contributing to regional and state economic development.