Close
UHV student enjoys experience on Dean Search Committee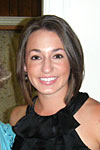 Lindsey Jolly
University of Houston-Victoria student Lindsey Jolly was nervous when she was chosen as the undergraduate representative for the School of Education and Human Development's Dean Search Committee in the spring, but she found the experience rewarding and was pleased with the outcome.
"It was a great experience, and I was in awe of how accomplished some of the applicants were in the field of education" said Jolly, who is an education major. "Dr. Lawrence Rossow, who was chosen as the new dean, has so many great ideas and goals for the future of the program at UHV."
Serving on the Dean Search Committee was a first for Jolly.
"I had never served on such a committee before, so I was both honored and anxious to be the only student," Jolly said. "As the undergraduate representative, I was basically the voice of the undergraduate class as a whole."
The search lasted about three months with Jolly attending meetings to review resumes. The committee members also conducted phone interviews with the dean candidates.
"We created a matrix to sort through the pros and cons of all the applicants," Jolly said. "Toward the end, we brought a couple applicants to the campus for interviews."
Jolly was allowed to participate in the group interviews by asking questions and making suggestions that would benefit the students in the School of Education & Human Development.
Jolly said participating in the interview process for such a prestigious position was enlightening.
"I wanted to take part in this committee because not only was it a great learning experience, but meeting so many people who were so accomplished opened my eyes to all the possibilities in the field of education," she said.
In addition to attending UHV and serving on the Dean Search Committee, Jolly also is student teaching this semester at Dudley Magnet Elementary School in Victoria and worked as a lab assistant in UHV Information Technology for nearly a year before that.
"The IT Department has some of the greatest people I have met," Jolly said. "I loved coming to work every day and loved the personalities of everyone there. They made my job less of a job and more a fun place to be."
She also enjoyed talking with the students in the computer lab.
"I came to know a lot of great people and admired them for all their hard work in pursuing their degrees and furthering their education," Jolly said.
Jolly also is a member of Gamma Beta Phi honor society and was on the fall and spring Dean's lists last school year. Jolly would like to teach elementary school when she graduates in December.
The UHV Outstanding Student is an online feature highlighting the exceptional students who attend the University of Houston-Victoria. To nominate a student, contact UHV Communications Manager Paula Cobler or call 361-570-4350.
The University of Houston-Victoria, located in the heart of the Coastal Bend region since 1973 in Victoria, Texas, offers courses leading to more than 80 academic programs in the schools of Arts & Sciences; Business Administration; and Education, Health Professions & Human Development. UHV provides face-to-face classes at its Victoria campus, as well as an instructional site in Katy, Texas, and online classes that students can take from anywhere. UHV supports the American Association of State Colleges and Universities Opportunities for All initiative to increase awareness about state colleges and universities and the important role they have in providing a high-quality and accessible education to an increasingly diverse student population, as well as contributing to regional and state economic development.