Close
UHV degrees help graduates achieve dreams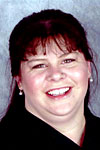 Heidi Bragg
Graduates from all four of the University of Houston-Victoria schools have used their degrees to quickly find new jobs and move their careers forward.
Heidi Bragg used the Master of Business Administration she earned in August from the School of Business Administration to move from her career as pharmacy professor to her current job as a Houston-based pharmacy compliance officer with Cardinal Health, a hospital management firm with offices around the country.
She found the job opening while putting out feelers last fall.
"One of the requirements for the job I have is you have to be a pharmacist and have an MBA," Bragg said. "I'm lucky. I got it a little early. I was so close to finishing, they said that was sufficient."
Now she guarantees some 180 pharmacies are in compliance with federal and state regulations.
Her UHV degree expanded her horizons, she said.
"It really broadened my view of the business world," she said. Bragg noted the all-online program really made it possible for her to earn her degree while working full time.
She was a member of one of the top three teams in the spring Master of Business Administration Conference, in which students in the capstone course for the MBA program analyzed a company and came up with the best strategies to address the challenges and opportunities the firm would face.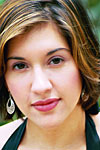 Lilly Perez
Lilly Perez used the master's degree she earned in August from the School of Education & Human Development to become an elementary school counselor in Katy after serving as a kindergarten teacher for two years and a third-grade teacher for two years in the Spring Branch school district.
"I really wanted to keep working with children but in a different capacity," Perez said. After a lot of thought and reflection, she decided to pursue her degree in counseling.
She previously took a few classes at UHV after earning her undergraduate degree.
"I liked UHV's flexibility and the course work, and I really enjoyed my experience there," she said.
Before she even finished her master's degree, she was hired as a counselor at Morton Ranch Elementary in the Katy Independent School District. Based on her progress up to that point, the district was willing to work with her on beginning her counseling career a bit early.
"I love my job," she said as she started her second year in the job. "I know that counseling was the right decision for me."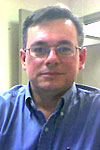 Charles Russell
Charles Russell used his Master of Arts in Interdisciplinary Studies with concentrations in business and information technology that he earned from the School of Arts & Sciences in 2005 to get the job of his dreams combining the two disciplines.
"I am a systems administrator with Leedo Cabinetry in East Bernard," he said. "Basically, I make sure that our systems are reflective of our business processes."
A three-man infrastructure team and a two-man programming team both report to him.
"I was really looking for a degree to marry business and IT, and the MAIS was exactly what I was after," he said.
He spent several years using what he had learned with his undergraduate business degree in a printing company in Pennsylvania and decided it wasn't what he wanted to do. He instead wanted to pursue his fascination with business processes.
Russell moved back to his native Houston in 2002 to find a degree program that would let him reach this dream. A chance encounter with a recruiter at Houston Community College, where he was taking classes to get back into the swing of higher education, opened the doors to UHV and his future.
In fact, he used a final class project as an exhibit in his job interview, which helped him win his position in October of 2005.
Britt Smith used her new Bachelor of Science in Nursing degree she earned in August of 2008 to get promoted earlier this year from an emergency room nurse to an assistant managerial position at Methodist Emergency Care Center, a new, free-standing emergency room in Sugar Land just off U.S. Highway 59.
"To be any kind of upper-level management, you have to have a bachelor's degree," she said. Her bachelor's degree opened up more compensation, new opportunities and challenges, she said.
"We all need challenges in life to keep us going and looking forward to the future," Smith said. Her new position as a nurse mentor provides just that and the opportunity for further advancement.
She plans to pursue her Master of Science in Nursing from UHV and eventually teach future nurses, she said.
"Education empowers people, enabling them to improve their lives," UHV President Tim Hudson said. "These graduates are among the many examples of how a UHV degree can do just that at a cost few universities can rival."
The University of Houston-Victoria, located in the heart of the Coastal Bend region since 1973 in Victoria, Texas, offers courses leading to more than 80 academic programs in the schools of Arts & Sciences; Business Administration; and Education, Health Professions & Human Development. UHV provides face-to-face classes at its Victoria campus, as well as an instructional site in Katy, Texas, and online classes that students can take from anywhere. UHV supports the American Association of State Colleges and Universities Opportunities for All initiative to increase awareness about state colleges and universities and the important role they have in providing a high-quality and accessible education to an increasingly diverse student population, as well as contributing to regional and state economic development.