Close
Professor wins award from Taiwanese government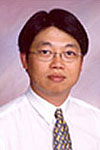 Chien-Ping Chen
HOUSTON - A business instructor at the University of Houston-Victoria will be honored with the 2009 Distinguished Teacher Award in September by the Cultural Division, Taipei Economic and Cultural Office.
Chien-Ping Chen, who teaches economics in the UHV School of Business Administration, was one of only three individuals chosen for the award. It recognizes college educators who were once citizens of Taiwan and "who have achieved great accomplishments toward the goal of promoting academic and economic exchanges between Taiwan and the southern region of the U.S.," according to the organization's Web site.
"I was happy to be considered for the award, but I didn't expect I would win," said Chen, who will receive the award and a cash prize at a dinner ceremony Sept. 28 in Houston.
To help promote cultural understanding, Chen has led two groups of UHV students to Taiwan to participate in a joint class project with students at the National Chin-Yi University of Technology. Students work together at a brisk pace during three weeks to complete a project, he said.
"We can see how this international cooperation can do some very tough tasks," Chen said.
Students from both countries learn about each others' strengths and weaknesses and gain an international perspective that will help them in the increasingly global economy, Chen said.
Eastern and western philosophies are very different in how they get things done, he said. In the future, business success will require both sides to understand each other's perspective.
Chen also does regular radio interviews in Houston where he helps explain the U.S. economy to new immigrants from the East.
Such efforts brought praise from the leader of Chen's school.
"Business recognizes fewer and fewer borders, and so we all must learn to understand and appreciate different cultures," said Farhang Niroomand, dean of the UHV School of Business Administration. "Dr. Chen has made great contributions to our efforts to impart that understanding to our students at UHV. His award is well deserved and a credit to this institution."
The awards sought nominations from professors in eight states. Entries were judged by a panel of five other college professors, said Sarah Wu, director of the cultural division of the Taiwan consulate.
"We are pleased to recognize Dr. Chen's efforts to help build stronger ties and cooperation between Taiwan and the United States," she said. "We look forward to seeing the fruit of his continued efforts."
TECO seeks to promote exchanges and cooperation in trade and investment, science and technology, culture, education and tourism between Taiwan and the southern U.S. It is a part of Taiwan's Houston consulate.
The University of Houston-Victoria, located in the heart of the Coastal Bend region since 1973 in Victoria, Texas, offers courses leading to more than 80 academic programs in the schools of Arts & Sciences; Business Administration; and Education, Health Professions & Human Development. UHV provides face-to-face classes at its Victoria campus, as well as an instructional site in Katy, Texas, and online classes that students can take from anywhere. UHV supports the American Association of State Colleges and Universities Opportunities for All initiative to increase awareness about state colleges and universities and the important role they have in providing a high-quality and accessible education to an increasingly diverse student population, as well as contributing to regional and state economic development.