Close
Students come from China to Victoria under new UHV program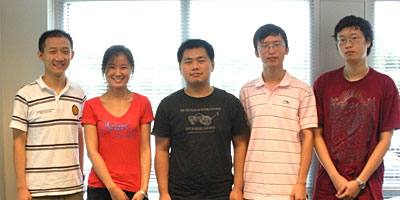 Five students from China are working on their master's degrees in computer information systems this semester at the University of Houston-Victoria main campus. Pictured, from left, are Zeliang Gao, Lishan Duan, Peng Sun, Yong Yang and Hongchao Ma. Not pictured is Jin Shang.
Six students came all the way from China this fall to take graduate computer science classes in Victoria.
The students are part of a new program between four Chinese universities and the University of Houston-Victoria School of Arts & Sciences. The five students will stay in Victoria until they finish their coursework in a little more than a year.
For UHV, the program is another benchmark of the school evolving into an institution with a worldwide reach.
"This new program will increase the international reputation of the School of Arts & Sciences and give a global perspective to students on two continents," said Jeffrey Di Leo, dean of the UHV School of Arts & Sciences.
The Chinese students can teach as much to their U.S. counterparts as they will learn themselves, he said.
Under the program, Chinese students earn their undergraduate degrees at or are recruited by Xi'an Polytechnic University, Ocean University of China, Xi'an Institute of Post and Telecommunications and Qingdao University of Science and Technology and then come to UHV to earn their master's degrees in computer information systems.
For the students, coming to Victoria offers them an education both inside and outside the classroom.
"In Victoria, everywhere I can see cars, and everything is green," said Lishan Duan, whose trip to Victoria is her first away from her hometown of Xi'an. "Not everyone drives in Xi'an. Public transportation is good enough."
All of the students commented that Texas has a lot more wide-open spaces than where they are from in China.
"It's quiet and not as crowded," observed Zeliang Gao.
"Some lands seem wild," added fellow student Peng Sun.
But those differences are why many of the students decided to participate in the program.
"I wanted to experience a different type of culture and environment," Sun said. The culture in Texas is more open than China, he said.
That openness extends to the classroom, which has a less formal environment in the U.S., said Yong Yang. In China, students stand up to address their teacher, he said as an example. At UHV, students can ask questions sitting down. Discussions are also more open here, he said.
The culture in Texas isn't a huge shift for at least one student. Hongchao Ma earned his undergraduate degree from the University of Sheffield in England. One of the reasons he chose to study in Texas was to see the differences of the English-speaking cultures.
So far, he said the biggest differences he's noticed are that English is easier to understand with a British accent, and that Texas has a lot more sunshine than the United Kingdom.
Since their arrival in late August, the students have lived in the Arlington Apartments across the street from UHV. Members of the community provided furnishings for the apartments.
"People have been very generous and kind in helping these students adjust to life here," said Magen Besancon, recruitment assistant in the School of Arts & Sciences and school liaison to the Chinese students.
The students have made several trips to Wal-Mart and other retailers, and they all said they want to see more of Texas while they earn their degrees.
Many of the students want to go fishing in the Gulf of Mexico, and all of them want to see Yao Ming play for the Houston Rockets.
The program formally was established during a trip the fall of 2008 to China by a group of UHV officials that included President Tim Hudson and Di Leo.
The discussions started the process of developing a program where UHV students and faculty will travel to China to teach and study within the next two years, Di Leo said.
"We hope this will be the first of many collaborations between UHV and our new partners in China," Di Leo said. "Our two cultures both play dominant roles in the world today, and there is much we can learn from each other."
Di Leo thanked Li Chao, chair of the Science, Technology and Mathematics Division in the School of Arts & Sciences, for his help in establishing the program along with instructors Yun Wan and Qi Zhu.
UHV has a similar program in the School of Business Administration, which brought Chinese graduate students and professors to the U.S. to take classes last school year at the University of Houston System at Sugar Land and UHS at Cinco Ranch, where UHV offers programs.
The University of Houston-Victoria, located in the heart of the Coastal Bend region since 1973 in Victoria, Texas, offers courses leading to more than 80 academic programs in the schools of Arts & Sciences; Business Administration; and Education, Health Professions & Human Development. UHV provides face-to-face classes at its Victoria campus, as well as an instructional site in Katy, Texas, and online classes that students can take from anywhere. UHV supports the American Association of State Colleges and Universities Opportunities for All initiative to increase awareness about state colleges and universities and the important role they have in providing a high-quality and accessible education to an increasingly diverse student population, as well as contributing to regional and state economic development.