Close
UHV student combines politics with sweet desserts
A cupcake business and politics. One University of Houston-Victoria management and marketing major is taking on the challenges of both.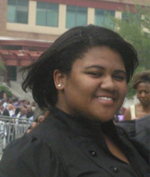 Keisha Smith
University of Houston-Victoria student Keisha Smith is active in Victoria's Democratic Party and runs her own business, 414 Cupcakery, in her spare time.
Smith became active in politics during the November presidential election. She was elected as a delegate to the Democratic National Convention. Smith also helped organize one of the first party-run campaigns in Victoria County and then traveled to Ohio, where she continued to campaign for President Obama. Her year of hard work was rewarded when she got to attend the presidential inauguration in Washington, D.C.
"It was the first time I felt like I was able to make a difference through the election process, so I dove right in," she said.
This year, she is concentrating on keeping the Victoria Democratic Party active, while learning as much as she can about organizing a successful electoral campaign.
"I want to make Victoria one of the main places for Democratic candidates to stop, a 'must' on their campaign tours, whether it's a state or national office candidate," she said. "I want to make sure voters in Victoria have access to a second point of view and access to candidates who may support their issues, even though a voter may not classify himself or herself by either party. I also want to encourage more young people and others who are disenchanted with politics to get involved and make their voices heard."
Smith also is a member of the Crossroads Progressive Women, a Victoria-based organization whose members meet to discuss and act on issues affecting the community. As a member of the group's steering committee, Smith meets with other members to brainstorm and choose guest speakers.
"I was introduced to CPW in November by UHV Provost Suzanne LaBrecque," Smith said. "She invited me to meet a speaker whose passion is to get more women, youth and minorities involved in the political process. I was only recently asked to join the steering committee, but I believe I'll provide a different opinion and a new set of ideas for the group."
Smith still has the time to run 414 Cupcakery, which she created earlier this year.
"I've always enjoyed cupcakes as a miniature dessert. One is just enough to satisfy a craving for sweets, but they are also an easily portable treat if you need to share something with a group," she said. "Cupcake bakeries, or 'cupcakeries,' have been around for years in other major cities but are just now making their way to Texas."
Smith said she had other ideas for a business, but 414 Cupcakery allowed her to start a company with only a small financial investment. Local residents call her to place orders, and then she bakes the cupcakes and delivers them.
"Owning a company has been a fun way to put what I'm learning at UHV to immediate use," she said. "It is definitely a lot more nerve-wracking than I thought it would be. The most challenging part is going with my own instincts and accepting the consequences of those decisions. It's much harder to make yourself take a risk when you're using your own money, but it's a lot of fun when you see other people enjoying a product you put a lot of time and effort into."
The UHV Outstanding Student is an online feature highlighting the exceptional students who attend the University of Houston-Victoria. To nominate a student, contact UHV Communications Manager Paula Cobler  or call 361-570-4350.
The University of Houston-Victoria, located in the heart of the Coastal Bend region since 1973 in Victoria, Texas, offers courses leading to more than 80 academic programs in the schools of Arts & Sciences; Business Administration; and Education, Health Professions & Human Development. UHV provides face-to-face classes at its Victoria campus, as well as an instructional site in Katy, Texas, and online classes that students can take from anywhere. UHV supports the American Association of State Colleges and Universities Opportunities for All initiative to increase awareness about state colleges and universities and the important role they have in providing a high-quality and accessible education to an increasingly diverse student population, as well as contributing to regional and state economic development.