Close
UHV golf scholarship donations to be matched up to $50,000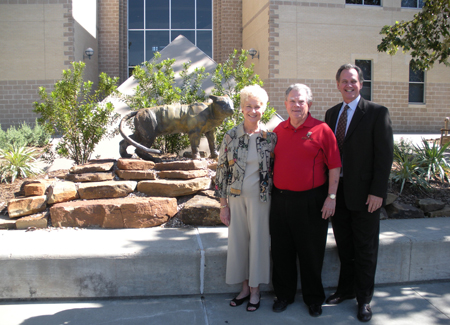 Donors Mary Virginia and Claud Jacobs, pictured with UHV President Tim Hudson, right, will match up to $50,000 in scholarship donations to UHV's new golf program.
Area philanthropists Claud and Mary Virginia Jacobs will match all scholarship donations up to $50,000 to the University of Houston-Victoria's new golf program.
UHV Athletics Director Ashley Walyuchow made the announcement Wednesday during a scholarship fundraising luncheon at UHV. The university will field its first men's and women's golf teams in the fall of 2010 at the same time it fields its first soccer teams.
"Golf has always been special in my life," Claud Jacobs said. "I want to give something back to the game and help others to enjoy all the benefits from it that I have."
The offer is a challenge to the community to contribute matching funds that will help students achieve their dreams and bring growth to the community, he said.
"The members of this region continue to impress me with their generosity and vision," Jacobs said. "I have faith they'll rise to this challenge and do something positive for everyone."
Jacobs recalled how after his mother died when he was 12 years old, he basically grew up on the golf course among the many players who mentored him and helped him become into a responsible adult.
The golf scholarships are set up to provide similar benefits to students, he said.
Each September, scholarship recipients will attend a luncheon with scholarship donors as a way of forming meaningful connections between benefactors and benefiters, Jacobs said.
"Donors can see the affects of their generosity as they watch these students develop and progress at UHV," he said.
The students, in turn, will get to meet the contributors and form a mentor-like relationship with them. Jacobs hoped many donors would invest in the lives of these students by taking them to lunch, playing golf with them and guiding them through their college careers.
"This is a win-win arrangement for everyone," Jacobs said.
Donors like Jacobs and his wife make the dream of college sports in Victoria possible, Walyuchow said.
"Claud and Mary Virginia have been two of the strongest supporters of our sports programs at UHV from the very beginning," Walyuchow said. "We couldn't have come so far so fast without them."
The university started its athletics program in the spring of 2008 when it fielded its first baseball and softball teams, he noted.
UHV President Tim Hudson also praised the Jacobs
"Their generosity has been a vital part of writing this fantastic new chapter in the history of our university," Hudson said. "I want to thank them both from the bottom of my heart. Mary Virginia and Claud are inspiring us to reach our full potential and to provide the benefits of a destination institution to this area. My donation will go in today, and its impact will double because of their leadership."
To make a scholarship donation, contact Amy Mundy, UHV director of annual giving, at 361-570-4306 or mundya@uhv.edu. Donors also can contact Walyuchow at 361-570-4336 or walyuchowa@uhv.edu.
The University of Houston-Victoria, located in the heart of the Coastal Bend region since 1973 in Victoria, Texas, offers courses leading to more than 80 academic programs in the schools of Arts & Sciences; Business Administration; and Education, Health Professions & Human Development. UHV provides face-to-face classes at its Victoria campus, as well as an instructional site in Katy, Texas, and online classes that students can take from anywhere. UHV supports the American Association of State Colleges and Universities Opportunities for All initiative to increase awareness about state colleges and universities and the important role they have in providing a high-quality and accessible education to an increasingly diverse student population, as well as contributing to regional and state economic development.