Close
UHV to host ribbon cutting for new library, first student center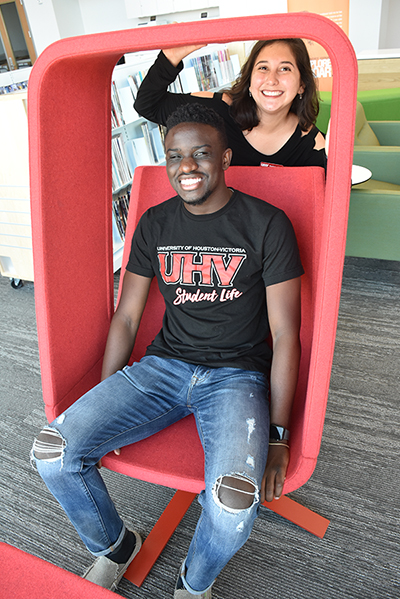 UHV seniors Eli Juma, seated, and Sophia Solano explore one of the study spaces Friday on the second floor of the UHV Library inside University Commons. Juma and Solano are student workers for UHV Student Life and will be working in the new building. The university is hosting a public ribbon-cutting ceremony and open house from 3 to 5 p.m. Aug. 28.
University of Houston-Victoria seniors Eli Juma and Sophia Solano have watched the new UHV University Commons come together since its groundbreaking in April 2017. Now they are looking forward to an Aug. 28 ribbon-cutting ceremony and open house, when the public will get to see UHV's new library and first student center.
"There's been so much anticipation about getting to this point," said Juma, an education major from Sabinal. "It's been a journey watching the building go up a little bit more every day as we went to classes. It's just mind-blowing to be one of the first students to use this new space."
UHV will host a ribbon cutting ceremony at 3 p.m. Aug. 28 at UHV University Commons, 3006 N. Ben Wilson St. The ceremony will begin with a presentation inside the lobby, followed by a ribbon cutting in front of the building. Afterward, the community is invited to take part in an open house until 5 p.m. to learn about the offices and services available in University Commons. Light refreshments will be available, and tours will be offered.
University Commons is the university's first student center in its 46-year history and was partially funded by a fee approved by students in spring 2015. The three-story, 80,124-square-foot building is on the east side of Ben Wilson Street, directly across from UHV University Center.
The building eventually will house a food court and a market with a coffee bar, which both will open in fall 2020. The university's new Jag Station bookstore is currently set up on the first floor of the UHV University Center, 3007 N. Ben Wilson St., and will move into its space on the first floor of University Commons in mid-September. University Commons also houses the new UHV Library, a multi-purpose room with seating for up to 250 people, study and lounge areas, the Center for Student Involvement, and a Student Services Suite. The Dr. Vic and Mary Jane Morgan Counseling Center, named after Vic Morgan, who served as the UHV president from 2014 to 2018, and his wife will be located on the second floor. This naming was made possible by the generous donations of community members.
"University Commons is the first of three new buildings at UHV," President Bob Glenn said. "This building will bring a new level of excitement to campus and give our students a wonderful, dedicated space where they can study, socialize and get important services. This is a great step forward for the university and the Victoria community."
For Solano, the new building is a representation of the growth taking place at the university. The San Antonio native and education major remembers thinking that UHV was a small university when she first came to Victoria, but now she thinks the university is growing at a fast pace.
"When I first saw the inside of the new building, I was shocked," Solano said. "Everything was so modern, shiny and nice. There's so much to see here, and it really shows what the university is capable of achieving."
Juma and Solano are student workers for UHV Student Life and were among the first people to move their workspaces into the new building. Now, as they prepare to welcome students back from summer vacation, they also get to turn the new office spaces into something that feels like home.
"I keep telling people it feels crazy to know we get the privilege of being the first to use this wonderful space," Juma said. "Between work, studying and just taking time to myself, I already know I'm going to be in this building every day from morning to night."
One of Juma's favorite things about University Commons is the library. With its new, convenient location, he will be able to go to the UHV Library right across the street from where he attends classes. Solano also has a new favorite spot on campus. She already is planning to have her senior and graduation pictures on the third-floor balcony of University Commons that overlooks UHV's campus.
"It's such an honor to be one of the first students to use this building," Solano said. "It feels like we're laying a foundation for students who come after us. I can't wait to see how the rest of the construction around campus will look once it's complete."
For more information about the ribbon cutting, contact Nancy Gresham, UHV special events coordinator, at 361-570-4351 or greshamn@uhv.edu. To RSVP for the ribbon cutting, email rsvp4@uhv.edu.
The University of Houston-Victoria, located in the heart of the Coastal Bend region since 1973 in Victoria, Texas, offers courses leading to more than 80 academic programs in the schools of Arts & Sciences; Business Administration; and Education, Health Professions & Human Development. UHV provides face-to-face classes at its Victoria campus, as well as an instructional site in Katy, Texas, and online classes that students can take from anywhere. UHV supports the American Association of State Colleges and Universities Opportunities for All initiative to increase awareness about state colleges and universities and the important role they have in providing a high-quality and accessible education to an increasingly diverse student population, as well as contributing to regional and state economic development.