Close
Future teacher owns local pottery company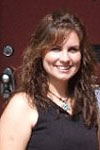 Kate Garcia
University of Houston-Victoria student Kate Garcia runs her own pottery business while she studies to become a school teacher.
In October, Garcia decided to open Santa Rosa Pottery in Victoria along with Gerry Bernhard, a student at The Victoria College.
"Talk about a big decision," Garcia said. "I think I lost most of my hair making that one. I've always wanted to own a small business, but I shied away from it because of the massive amount of debt I would incur. Then I met my future business partner and everything just fell into place."
Bernhard and her husband owned a building that had once been a hardware store in the old Santa Rosa Lumber Co. It turned out to be a perfect space for a ceramics studio and gallery. The women renovated the place themselves and slowly bought their equipment through auctions.
"We both agreed to no debt, so I knew if it didn't work out, I wouldn't be stuck in the hole," Garcia said.
She discovered owning her own pottery company is an ideal business because she can work from home and have plenty of time to take her UHV courses online. A flexible work schedule is crucial to Garcia because once she graduates from UHV in 2010, she'd like to pursue a master's in counseling.
Like most new business owners, Garcia faced some hurdles. She lost most of her inventory due to a malfunctioning piece of equipment and eventually had to make the painful decision to buy new equipment.
"After a few months of extreme frustration, we decided to throw in the towel and replace one of our kilns," she said. "That was hard to see that money just literally burn away. Like most setbacks, it just made my business partner and I work harder to figure out the issue."
Garcia said she's drawn to pottery because she loves to learn, and the art of ceramics is a never-ending education.
"You never reach the last level of mastery in ceramics because there isn''t one," she said. "There is always a boundary that needs to be pushed. The rules of ceramics are never constant. They change with every new batch of glaze, with every firing in the kiln, with every new mix of clay."
Garcia, who was born and raised in Victoria, also teaches fifth and sixth grade Confraternity of Christian Doctrine at St. Mary's Catholic Church. In addition, she volunteers at the Victoria Riding Therapy Center.
The UHV Outstanding Student is an online feature highlighting the exceptional students who attend the University of Houston-Victoria. To nominate a student, contact UHV Communications Manager Paula Cobler or call 361-570-4350.
The University of Houston-Victoria, located in the heart of the Coastal Bend region since 1973 in Victoria, Texas, offers courses leading to more than 80 academic programs in the schools of Arts & Sciences; Business Administration; and Education, Health Professions & Human Development. UHV provides face-to-face classes at its Victoria campus, as well as an instructional site in Katy, Texas, and online classes that students can take from anywhere. UHV supports the American Association of State Colleges and Universities Opportunities for All initiative to increase awareness about state colleges and universities and the important role they have in providing a high-quality and accessible education to an increasingly diverse student population, as well as contributing to regional and state economic development.