Close
UHV celebrates outstanding nursing students
Two students had very healthy performances while studying in the University of Houston-Victoria School of Nursing.
Bachelor's candidate Kristin Peterson of Pearland and master's candidate Lance Neill of Victoria will be recognized as outstanding graduates during Saturday's commencement ceremony at the Leonard E. Merrell Center in Katy. Faculty members in each of UHV's four schools select at least one outstanding bachelor's and master's degree candidates each semester to be recognized during commencement.
Neill will be among the first group of seven graduates to receive Master of Science in Nursing degrees from UHV.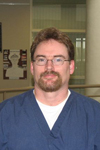 Lance Neill
"For the first class, I think it is quite an honor to be named the outstanding graduate student," Neill said.
Neill will receive his MSN degree with a nurse education concentration. He already is using what he has learned as a nurse educator at Triumph Hospital in Victoria.
Eventually, Neill plans to educate the next generation of nurses at a community college, he said.
For him, his success all boils down to hard work.
"You have to be willing to work at it and put the time and effort into it," Neill said of his studies.
All that hard work earned him high praise from professors.
"Lance possesses the most valued characteristics of a master's prepared nurse: analytical and critical thinking skills, independent thinking, leadership ability and strong clinical skills," said Vivian Nowazek, assistant professor of nursing. "He successfully balanced full-time graduate studies, working full time, a family and competing pressures throughout the graduate program. What impressed me most about Lance was that he was here to learn. He came to class prepared, with lots of questions, and would take what he had learned and apply it in the clinical setting"
Neill will go on to become a nurse leader in the area, she said.
"Nursing counts on the leadership of graduates like Lance to positively impact patient outcomes," she said. "I look forward to following Lance's contributions to Victoria and nursing."
Peterson will be one of the first to graduate from the School of Nursing's Second Degree Bachelor of Science in Nursing program that allows those with a bachelor's degree in another area to become nurses in as little as a year.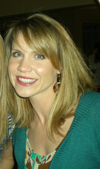 Kristin Peterson
"I'm honored they chose me," Peterson said. "Every student was hardworking and absolutely amazing in the program, so I was thrilled and shocked. With the tremendous support from the faculty, as well as my fellow classmates, we all worked together to be successful." When she had her first child, there were complications that nurses helped her through, she said. Now, she hopes to provide that help to others.
Prior to finding the UHV program, she worked as a sixth-grade science and reading teacher and a stay-at-home mother.
She offered a little advice of her own to students who want to follow in her path of excellence.
"Just always do your best, and don't be afraid to ask for help when you need it," she said. She joked that hiring a personal chef and a maid would probably make things at lot easier.
Her labors brought praise from the school's leader.
"Nursing school isn't easy, no matter what degree path you take," founding Dean Kathryn Tart said. "Students like Kristin who manage to do excellent work in the classroom, clinicals and labs and still take care of a family amaze me. Such a feat speaks highly of her drive and character. Both traits will make her an excellent nurse."
Tart went on to praise both Neill and Peterson.
"Both of these graduates will go on to be nurse leaders in the Victoria and Fort Bend areas and help relieve the nursing shortage facing our state," she said. "They are going to accomplish great things for nursing and be wonderful representatives of this nursing school and university."
The University of Houston-Victoria, located in the heart of the Coastal Bend region since 1973 in Victoria, Texas, offers courses leading to more than 80 academic programs in the schools of Arts & Sciences; Business Administration; and Education, Health Professions & Human Development. UHV provides face-to-face classes at its Victoria campus, as well as an instructional site in Katy, Texas, and online classes that students can take from anywhere. UHV supports the American Association of State Colleges and Universities Opportunities for All initiative to increase awareness about state colleges and universities and the important role they have in providing a high-quality and accessible education to an increasingly diverse student population, as well as contributing to regional and state economic development.