Close
UHV School of Business Administration to recognize outstanding graduates
Being outstanding is a standard business practice for two students about to graduate from the University of Houston-Victoria School of Business Administration.
Bachelor's candidate Catherine Hopping of Victoria and master's candidate Asif Kaba of Seattle, who each will receive a degree in business administration, will be honored at UHV's fall commencement ceremonies as outstanding graduates. Fall commencement will begin at 11 a.m. Saturday in the Leonard E. Merrell Center, 6301 S. Stadium Lane, in Katy.
Professors from each of the four UHV schools select at least one outstanding graduate each semester from their bachelor's and master's programs to be honored during commencement.
It was a long road to graduation for Hopping.

Catherine Hopping
"I've been going to school for about 30 years now, on and off," she said. During that time, school often had to take a back seat to work and family responsibilities, she said.
Hopping has worked for H-E-B Grocery Co. in Victoria as a manager throughout her time at UHV. What she learned in the classroom was often directly applied to her work, she said.
"The thing about going to school for this long is, I think it's kept me very up to date with the current trends," she said.
During her studies, she maintained a 4.0 grade-point average. Part of what made it easier was learning to live with less sleep, she joked.
"I really enjoyed learning, and I guess that's why I did as well as I did," she said. "I'm really considering going back to get my master's degree."
Her diligence brought praise from her professors.
"She is not only an outstanding student. She is also very highly motivated, interactive and always stays ahead in her work," said Nagarajan Ramamoorthy, a professor of management. "Her planning and organizing skills are praiseworthy. She exhibits very good analytical skills, much needed in today's business world."
Master's candidate Kaba thought about getting his graduate degree for about 10 years before he finally decided to start taking classes at the University of Houston System at Sugar Land, where UHV offers many of the programs. He drove past it every day for years on his way to his job with IBM.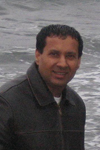 Asif Kaba
The program was close to where he lived and worked, and the timing was right in his life to allow him to take classes, Kaba said. "I started and didn't stop for four years."
He maintained a 4.0 grade-point average while supporting his family, which includes his wife and three children.
Kaba advised other aspiring students not to put off getting a higher education, since knowledge can give one "superpowers."
"Most people know one of Superman's powers is the ability to see though walls," Kaba said. "When most people see a block of numbers like in financial papers, it's like looking at a wall. So when you have knowledge, you can look beyond the wall of numbers and see the real story behind the wall, like Superman."
By choosing him as an outstanding graduate, faculty members said they thought he was super.
"By his academic performance alone, Mr. Kaba has demonstrated superior abilities in the field of business," Dean Farhang Niroomand said. "To be able to maintain academic excellence and raise a family demonstrates great commitment and discipline that will certainly serve him well in any of his future endeavors."
Niroomand added that both graduates reflected well on the school and the university as a whole.
"These two graduates are fine examples of the future business leaders we pride ourselves on producing in the School of Business Administration," he said. "I look forward to hearing about the great accomplishments of these students. I know they will make us all very proud."
The University of Houston-Victoria, located in the heart of the Coastal Bend region since 1973 in Victoria, Texas, offers courses leading to more than 80 academic programs in the schools of Arts & Sciences; Business Administration; and Education, Health Professions & Human Development. UHV provides face-to-face classes at its Victoria campus, as well as an instructional site in Katy, Texas, and online classes that students can take from anywhere. UHV supports the American Association of State Colleges and Universities Opportunities for All initiative to increase awareness about state colleges and universities and the important role they have in providing a high-quality and accessible education to an increasingly diverse student population, as well as contributing to regional and state economic development.