Close
South Korean teachers visit UHV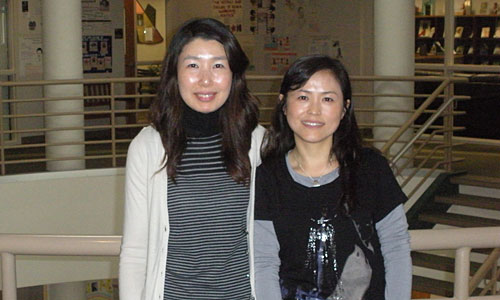 Korean teachers Eunah Kim, left, and Yeongsil Ko are visiting Victoria for two weeks as part of an exchange program through the Fulbright U.S. Studies Institute Program for Korean English Teachers.
Two high school English teachers from South Korea are learning and sharing in Victoria thanks to a program that includes the University of Houston-Victoria.
During their stay from Feb. 3 through Tuesday, the two teachers are visiting local schools to learn about the U.S. educational system and giving presentations to students about their lives in two very different settings in Korea.
Eunah Kim is from Busan, a city of 3 million. Yeongsil Ko comes from the small island of Jeju, referred to in tourist information as the "Hawaii of South Korea."
Teaching English is difficult in Korea because students learn mostly reading and grammar and have few opportunities to speak it.
The trip is a way to face Ko's fears and put her English skills to the test. Her previous travels to America proved challenging.
In addition, many of Kim's students ask if she has ever gone to the United States and what it is like. Now she can say "yes" and answer the second question with authority.
The teachers are part of a larger group of about 30 brought to Texas through a cooperative program between the Korean American Educational Commission, a Fulbright organization; and the Texas International Education Consortium, a group that includes UHV and 31 other state universities that cooperate to encourage international programs.
"The idea is to get people here who have not been to the United States but teach English to come and improve their English kills, learn about U.S. culture and history, and learn more about our teaching methods," said Woody Smith, a program director with Austin-based TIEC.
The teachers began their trip by spending a month taking classes at TIEC. During the last two weeks of the trip, the teachers are sent to Victoria and other cities around the state to live and observe.
Melanie Burns, an art teacher at Profit Magnet High School, is acting as a mentor teacher for the two Koreans in Victoria. She is taking them to area schools and organizing their other activities.
"We want to be able to involve them in as many things as we can," she said. She noted this is her third year to act as a mentor teacher with the program, and she's enjoyed it every time.
Kim is staying with Burns and her family, while Ko is staying with UHV Chief of Staff Margaret Rice, and her husband, Gene.
Kim and Ko's trip also includes getting to see many aspects of Texas culture and meeting the population of the Lone Star State.
"Texans are so kind and nice," Kim said.
"They are very proud of being Texan," Ko added. She said she's never met people so proud of where they are from.
Victoria has far less public transportation than either is used to, but it also has cleaner air and lots of wide open spaces, both teachers commented.
"I'm enjoying being in Texas," Kim said.
The University of Houston-Victoria, located in the heart of the Coastal Bend region since 1973 in Victoria, Texas, offers courses leading to more than 80 academic programs in the schools of Arts & Sciences; Business Administration; and Education, Health Professions & Human Development. UHV provides face-to-face classes at its Victoria campus, as well as an instructional site in Katy, Texas, and online classes that students can take from anywhere. UHV supports the American Association of State Colleges and Universities Opportunities for All initiative to increase awareness about state colleges and universities and the important role they have in providing a high-quality and accessible education to an increasingly diverse student population, as well as contributing to regional and state economic development.