Close
UHV Nursing student finds motivation above the clouds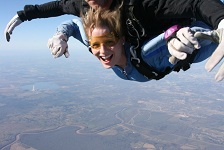 Kristin Jordan, a Second Degree Bachelor of Science in Nursing student at the University of Houston-Victoria, took a leap of faith in December by sky diving for the first time before she started the nursing program.
Kristin Jordan had some reservations when she decided to enter the Second Degree Bachelor of Science in Nursing program offered by the University of Houston-Victoria.
"I had some doubts about my strength," she said. "Could I really help people when they were in pain? I'm a really empathetic person, so I wasn't sure how I'd be able to handle that."
Then Jordan decided to take a leap of faith, literally, and her entire perspective changed. In December, just before the start of her first semester in the Second Degree BSN program, Jordan strapped on a parachute and jumped out of a plane for the first time. And just like nursing, she wasn't completely confident she could do it.
"I'd always wanted to try sky diving, but I wasn't sure I had the courage," she said. "It was a challenge to conquer that fear so I could have the experience I wanted, but once I did it, I realized there wasn't anything I couldn't do."
The reality of what she was about to do hit her just before she jumped.
"It became very real when I saw the person in front of me jump out," she said. "I saw how fast he fell, and my heart skipped a beat, but you don't have time to think about it when it's your turn to go. Then I jumped, and it wasn't scary at all because there was no turning back. It was already done."
Jordan now is applying that same mentality to nursing school. She takes Second Degree BSN classes at the University of Houston at Sugar Land, where UHV offers the nursing program, and has dove headfirst into the curriculum.
"It's a full-time program, so we're taking 20 hours this semester," she said. "I know it's going to be a challenge, but it's really exciting. Since it's such a fast program, there's never a dull moment."
Jordan, who received her bachelor's degree in biology from the University of Texas in Austin, said she wanted to go into nursing after spending time in the hospital for knee surgery.
"When I was in the hospital, I had nurses who were just exceptional," she said. "I realized then what an impact they have on people, what a difference they make, and it made me want to be a nurse. I've always been interested in anatomy and helping people; nursing is a great combination of the two."
And as for sky diving, Jordan said she's looking forward to her next jump.
"I'd definitely do it again," she said. "And if someone else is thinking about it but they're not sure, I'd say, 'Do it.' You'll never know until you try, and once you conquer that fear, it's really liberating. You realize you're stronger than you thought you were, and nothing scares you anymore."
The UHV Outstanding Student is an online feature highlighting the exceptional students who attend the University of Houston-Victoria. To nominate a student, contact UHV Communications Manager Paula Cobler  or call 361-570-4350.
The University of Houston-Victoria, located in the heart of the Coastal Bend region since 1973 in Victoria, Texas, offers courses leading to more than 80 academic programs in the schools of Arts & Sciences; Business Administration; and Education, Health Professions & Human Development. UHV provides face-to-face classes at its Victoria campus, as well as an instructional site in Katy, Texas, and online classes that students can take from anywhere. UHV supports the American Association of State Colleges and Universities Opportunities for All initiative to increase awareness about state colleges and universities and the important role they have in providing a high-quality and accessible education to an increasingly diverse student population, as well as contributing to regional and state economic development.