Close
Fun of math, computer science showcased at upcoming event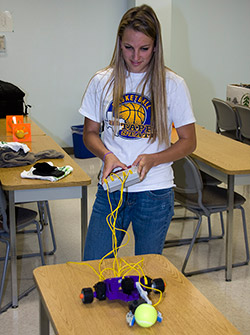 Emily Wagner, a student at St. Paul High School in Shiner, guides a tennis ball with a robot she built during the 2009 Math and Computer Science Awareness Day at the University of Houston-Victoria. This year's event will take place April 8.
Not many 15th anniversaries feature video games, magic, teleportation, math and science contests, and pizza.
But that is exactly what attendees will find at the Math and Computer Science Awareness Day presented from 3 to 6 p.m. April 8 by the University of Houston-Victoria and The Victoria College. The event will be on the UHV campus, 3007 N. Ben Wilson St.
This year's theme will be "Math and Computers and Sports."

Mel Damodaran
"We want to show high school students just how much they can do with math and computers, and how much fun both can be," said Mel Damodaran, a UHV computer science professor and one of the organizers of the annual event.
The afternoon is expected to bring together at least 100 area high school students to learn more about exciting topics in the fields of math and computer science and to compete for scholarships and other prizes through math and computer science tests.
The top winners will receive VC scholarships. Other prizes, including medals, trophies and certificates, will be awarded to top-performing teams and individuals in different categories.
The video game engine "Unreal Tournament III" will take center stage in one of the breakout sessions students can attend. Alireza Tavakkoli, an UHV assistant professor of computer science, will teach attendees how to build a working teleporter in the game engine's virtual environment.
In the other session, students will learn all about "Magical Mathematical Illusions and Math Puzzles" from Dennis Riedesel, a UHV associate professor of education.
During the awards ceremony, students will hear from keynote speaker Don Brubaker, sports director at the Victoria Television Group.
After all the awards, students will enjoy a feast of free pizza.
The schedule for the event is:
3:00-3:25 p.m. - Check-in at University Center Foyer, 3007 N. Ben Wilson
3:30-4:05 p.m. - Math contest
3:30-4:05 p.m. - Breakout Session 1
4:10-4:45 p.m. - Computer Science Contest
4:10-4:45 p.m. - Breakout Session 2
4:55-5:25 p.m. - Awards Ceremony
5:30-6 p.m. - Pizza dinner
Teachers interested in bringing competitive teams to the event can apply online at
www.uhv.edu/asa/awarenessdaycontest/. No prior registration is needed for individual students or teachers to attend.
For more information about the contests or the event, contact Damodaran at 361-570-4203 or damodaranm@uhv.edu.
The University of Houston-Victoria, located in the heart of the Coastal Bend region since 1973 in Victoria, Texas, offers courses leading to more than 80 academic programs in the schools of Arts & Sciences; Business Administration; and Education, Health Professions & Human Development. UHV provides face-to-face classes at its Victoria campus, as well as an instructional site in Katy, Texas, and online classes that students can take from anywhere. UHV supports the American Association of State Colleges and Universities Opportunities for All initiative to increase awareness about state colleges and universities and the important role they have in providing a high-quality and accessible education to an increasingly diverse student population, as well as contributing to regional and state economic development.