Close
UHV assistant business professor receives Highly Commended Award for doctoral research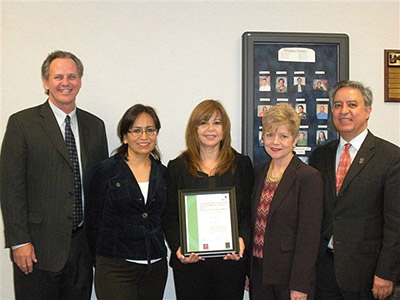 University of Houston-Victoria assistant business professor Olga Chapa, center, is presented with a doctoral research award from Bea Ramirez, second from left, a consortia relations manager for Emerald Group Publishing. Also at the Tuesday event were, from left, Tim Hudson, UHV president; Suzanne LaBrecque, provost and vice president for academic affairs; and Farhang Niroomand, dean of the School of Business Administration.
A representative from Emerald Group Publishing Inc. came to the University of Houston-Victoria from Dallas earlier this week to give an assistant business professor a Highly Commended Award for her doctoral research on the challenges of recruiting Latinas to the workforce.
Olga Chapa was presented with a framed certificate by Bea Ramirez, Emerald Group Publishing consortia relations manager, for the award she won in the 2009 Emerald/European Foundation for Management Development Outstanding Doctoral Research Awards. Her research was one of seven noted as Highly Commended in the Human Resource Management category of the contest.
"This is such an honor to be selected for this recognition," Chapa said. "I'm looking forward to expanding my research and studying this issue more. Everyone knows that the Hispanic population is growing, and it's important for business owners to learn what they can do to attract Latinas to jobs."
Chapa's research, titled "A Qualitative Study of the Hispanic Gender Role and Social-Cultural Factors Influencing the Attraction Process: The Recruitment of the Latina to Meet 21st Century Labor Shortage Challenges in America," looked at what causes Latinas not to take jobs. What she found is Latinas are hesitant to relocate far away from their established social network of family and friends. Businesses can use some social and cultural strategies to attract Latinas to jobs.
"We congratulate all the winners of the 2009 Outstanding Doctoral Research Awards for their excellent scholarship," said John Peters, joint chief executive of Emerald Group Publishing Ltd. "On behalf of Emerald and the European Foundation for Management Development, we are pleased to pledge our ongoing support for the awards in 2010, and to contribute to outstanding scholarship in the field of doctoral research in business and management."
The Emerald/European Foundation for Management Development Outstanding Doctoral Research Awards were open to those who had completed examination requirements for a doctoral degree between October of 2006 and October of 2009. Chapa received her doctorate in 2009 from the University of Texas-Pan American.
"We're very proud of Dr. Chapa's accomplishments during her first year at UHV," said Farhang Niroomand, dean of the School Business Administration. "I'm looking forward to seeing what she'll do next."
Emerald Group Publishing, headquartered in the United Kingdom, is a publisher of the largest collection of international business and management journals. The European Foundation for Management Development is a global membership organization with more than 700 institutional members from academia, business and public services. 
The University of Houston-Victoria, located in the heart of the Coastal Bend region since 1973 in Victoria, Texas, offers courses leading to more than 80 academic programs in the schools of Arts & Sciences; Business Administration; and Education, Health Professions & Human Development. UHV provides face-to-face classes at its Victoria campus, as well as an instructional site in Katy, Texas, and online classes that students can take from anywhere. UHV supports the American Association of State Colleges and Universities Opportunities for All initiative to increase awareness about state colleges and universities and the important role they have in providing a high-quality and accessible education to an increasingly diverse student population, as well as contributing to regional and state economic development.