Close
Teacher discovers love of psychology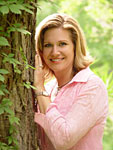 Melisa Smith
University of Houston-Victoria psychology major Melisa Smith always enjoyed being around children and thought she wanted to be a teacher, but her time in the classroom exposed her to a side of teaching she hadn't expected.
Smith started out at UHV as an early childhood education major. For the past six years, she's been a teacher and the curriculum coordinator at Little Lambs Preschool in Cypress, where she lives. Part of her job responsibilities include educating teachers and helping them find solutions to classroom problems.
"The more I got into the field, the more I became specifically interested in the brain and why people do the things they do," she said. "That got me really interested in psychology, so I changed majors at the university."
It's a field of study she puts to good use every day at work. As the curriculum coordinator, Smith works directly with the teachers, making sure their needs are met. Her psychology classes have been invaluable.
"It's been the biggest challenge learning how to interact with so many different personalities," she said. "Some need extra encouragement. Some need a more direct response, but everyone has something positive to offer, and I love working in a Christian environment and watching the children grow through the year."
Smith found a natural outlet for her faith and love of teaching. When she moved to Cypress in 2002, she joined Good Shepherd United Methodist Church. The congregation didn't have a drama team, so Smith started one.
"I just kind of took off with it," she said. "I asked around to see if anyone would be interested and got great feedback."
Through the years, the ministry provided her opportunities to work with adults, teens and younger children. Smith enjoys exercising her imagination and writing her own scripts.
"I had difficulty finding material for the teams, so I thought why not just write them myself? I tried a few, and they actually came out pretty good," she said.
Smith gives back in other ways, as well. She is a member of a church group that sponsors families in need from the Houston area. Five couples pool their own resources to provide families with clothes, food and toys.
"The only way we can truly grow in life is not to just read about or talk about change but actually put it into action," she said. "I've always been called to help other people, and you can accomplish so much more in a group than you can alone."
Smith, a wife and a mother of four, will graduate in December. She eventually would like to get a master's degree in counseling.
The UHV Outstanding Student is an online feature highlighting the exceptional students who attend the University of Houston-Victoria. To nominate a student, contact UHV Communications Manager Paula Cobler  or call 361-570-4350.
The University of Houston-Victoria, located in the heart of the Coastal Bend region since 1973 in Victoria, Texas, offers courses leading to more than 80 academic programs in the schools of Arts & Sciences; Business Administration; and Education, Health Professions & Human Development. UHV provides face-to-face classes at its Victoria campus, as well as an instructional site in Katy, Texas, and online classes that students can take from anywhere. UHV supports the American Association of State Colleges and Universities Opportunities for All initiative to increase awareness about state colleges and universities and the important role they have in providing a high-quality and accessible education to an increasingly diverse student population, as well as contributing to regional and state economic development.